Welcome to Black Crystals!
Black Crystals is a free turn based RPG with point and click elements, and a hand drawn style. A demo of the game is currently available.
Story So Far
Starsio used to sing songs on the street for a living. He was kidnapped and sold on the black market to the entertainment establishment "Paprika", where he was forced to become a performer.
One day, Starsio awakens a mysterious power. He takes this as a sign that it is time to escape and return home. Together with his reluctant friend Arthur, Starsio sets his escape plan into motion with one last song.
What awaits Starsio and Arthur outside the doors of Paprika? Will they be able to make it?
Features in Demo
Battle system where you can overcome adversaries by interacting with the environments or talking your way out of conflict.
Skill learn system where you learn skills by using skills.
Skill combo system where compatible skills link to form more power skills.
State of Mind system where your parties mental state greatly affects their effectiveness.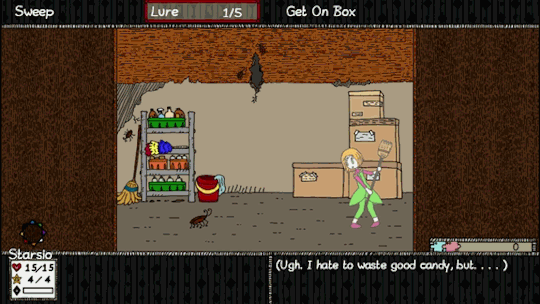 Discord Channel
Credits
Story, Dialogue, Coding, Art, Animations: Hind Saoud
Music: SpecialAgentApe , Bruno Buglisi , Tyler Cline
Sound Effects: freesound.org, on-jin.com, Pocket Sound, Open Game Art
2D Effects: RTFX
Plugins: ivara, Kino, Yoji Ojima, Yanfly, DreamX, Galv, Gamefall Team, Bobstah, Hudell, SumRndmDde, MoogleX, Mr. Trivel, Quasi, Modern Algebra, Shaz, Tamfey, Hime, Moghunter, JGreene, Victor Sant, Fugama, Karberus, Tor Damian Design, biud436, Nelderson, Aloe Guvner
Thank you and I hope you enjoy the demo!