We're happy to announce version 0.0.3 of City of the Shroud is now available for download! Grab it here:
IndieDB: Indiedb.com
Do… do you hear that? Is that an… overture? Like, a theme song? For the game? … ??
Yes, indeed it is! Feast your ears on City of the Shroud's Overture, as created by the ever-talented Chris J. Nairn - try not to get this song stuck in your head!
SoundCloud: Soundcloud.com
Also in this latest build, we've done a complete overhaul of the UI for inputting attacks, and we're really happy with how it's turn out. Hopefully, you will be too!
We knew that overlapping icons and unclear relations between input and activating special abilities was causing confusion for players, and we wanted to do something about it. Witness the latest iteration of the Combo Wheel: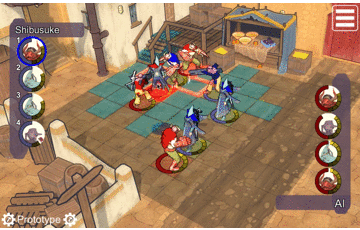 Now, icons will never overlap, and you can see the exact order in which you started activating them, from out to in. Icons will clearly show you where they want to go, and you can compare all of the options for your combo at a glance.
Of course, you can move faster than the wheel's animations if you know what you want to do as soon as you open it up!
There are a bunch more under-the-hood changes, including fixes to a bug that prevented the Combo Wheel from opening in the tutorial, but I'll let the patch notes summarize all of that for you:
0.0.3 Patch Notes
City of the Shroud Overture now plays on the title screen!

Overhauled the Combo Wheel UI

Added outlines and highlights to a bunch of the UI to make it more apparent on-screen

Player names will no longer overflow out of their box

Fixed bug where the Combo Wheel wouldn't open in the Tutorial (we hope!)

Updated the language in the tutorial and other places in the UI to make it a bit more clear what everything means/does

Updated our bug reporting system - fingers crossed this solves the issue with holding down click to type…
It's a short but impactful list! Try out the latest version of the game and let us know what you think - you can reach us from inside the game itself (magic!), @AbyssalArts on Twitter, through our Facebook page, and on our forums!