Hey Guys, great News!
A Designer joined our Team and is now working on the new GUI and new Textures!
The new Main Menu is allready available! We also started the work for our In-Game Music!
We also improved the Server System and the Server Browser now shows more Information, you can now also create PlayLists when you start a Server and the Game changes the Map from your PlayList after 5 Minutes!
If you have another Vision Runner BETA already installed, just install this BETA in the same Directory! Otherwise you can install it where you want!
BETA 1.6 Improvements:
+ Setting for Checkpoint Start
+ MainMenu Background (last Played Map)
+ Fixed Bug in Options Menu (Now current Resolution is selected)
+ Multiplayer Speed fixed
+ New In-Game GUI
+ Improved Controls (Better Jump Control)(Press Space when leaving JumpBlock)
+ Username above Head in Multiplayer
+ New Login GUI
+ New Main Menu GUI- Fixed Editor GUI Problem (Bug placed Blocks behind the GUI)
+ Map Playlist
+ Console/Chat Command for Server Hoster (//nextmap = now changes to next Map)
+ Improved Server and ServerBrowser with more Information
+ 5 Minute Timer for Multiplayer
+ Fixed Chat Bug
The following changes:
+ New Textures ? (Not sure if the next Update becomes the new Textures)
+ In-Game News
+ Block Images in Editor
+ More Blocks
+ More Settings (Input and Quality Settings)
+ More Commands for Hoster
+ In-Game Music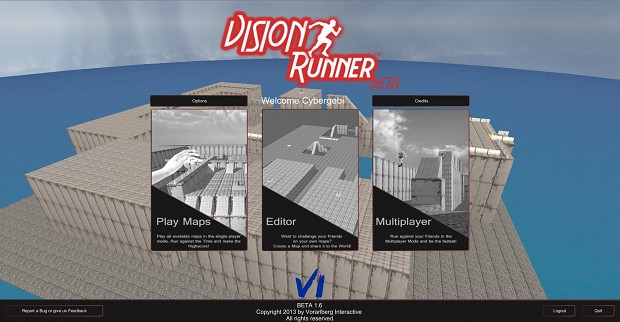 We constantly try to improve the game, but that's only possible with your help!
Please post Bugs and Feedback in our Forum here:
Indiedb.com
You need an Account to Play VisionRunner™!
You can register for free:
Visionrunner.vlbg-interactive.com
Thank you for testing it!
Greeting
Dominic
Lead Developer