Legend of Dungeon was selected to be in the Indiecade Showcase at E3!! We are so thrilled about this, it was really an honor to get to go! We'd never been to E3 and it was an awesome experience! Thank you Indiecade!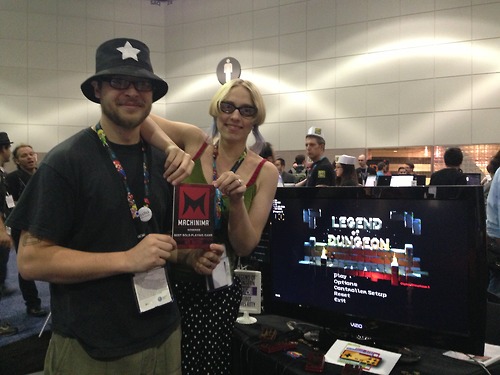 We got Nominated by Machinima for "best PRG at E3"!
And now here is the update on what we've been doing!
We've been working hard to get the game feature complete, and it's almost there. Here's what we've been up to!
We just invested in a Mac so that we can fix some existing Mac issues, as well as support Mac over Steam
The NPC's are going in and getting finalized, you'll be able to stumble across them randomly during your trip.
All the monsters and boss monsters are in!
The last of the Kickstarter items are getting added, and once that is complete we can balance the gameplay!
Well those are the big things, we'll save the details for the update itself!
We'll also possibly be Livestreaming a few test runs of the game this weekend if all goes well, so follow Twitch.tv if you are interested in seeing pre release gameplay of new builds. We also sometimes stream development, if you want to see us work! And next week we'll be doing the Greenlight Supershow on Saturday the 29th!