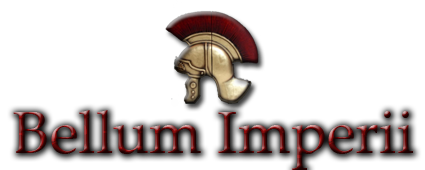 Hello dear mod supporters/followers!
Welcome to the release newsblog of Bellum Imperii 1.0!
I would like to make a couple of things clear before people start asking questions. My first intention was to make 1.0 the stable non-bug version of the mod. So this does not mean this version includes major features. It adds a lot of stuff and fixes as lot. But specialized features will come in future updates so with each update I can focus on one feature at a time.
Now to the version itself! I had to leave some things out as I otherwise wouldn't be able to release it at my own planned date. (Today) Hence the version will be missing naval warfare replacements and there is still a lot of work to be done on the scening aspect.

Because of the time issue there wasn't any time left to do some serious testing before the release. Even though I'm confident that there are no bugs left. There could be balancing issues with the factions, items and troops. But in time these will be sorted out and I hope that you lads will help me out with finding any odd aspects about the mod and report them to me so I can get on it!
Either way enough of that, have a great time!
---
Now here A changelog can be found with the RAR file but here is the list anyway.
##Gameplay##
Changed - Bits of the morale system, tuning it down at some aspects slightly.
-- MAJOR --
Added - Merchant Ledger feature
(Acces can be gained with the tradeledger that can be found with the books)
##Scenery##
Added scene - Jerusalem
Added scene - Dimmidi
Added scene - Byzantium
Added scene - Pergamum
Added scene - Rome
Added scene - Londinium
Added scene - Alexandria
Added scenes - Germanic Generetic Towns
Added scenes - Roman Generetic Towns
Fixed/Added - All missing villages scenes.
Fixed - Missing Ravenna scene
Fixed - Missing Thessalonica scene
Fixed - Missing Athene scene
##Troops##
Added - Minor troop tree for Armenia
Added - Minor troop tree for Nabeatans
Redone - Roman troop tree
- New faces
- Using the cohort names
- Seperate "armoured" troop.
- Using the hamata as main armour with different variations.
Expanded - Roman Illyricum troop tree.
- Added Sarmatian Auxs.
- Added Thracian Auxs.
- Added Cretan Auxs.
Expanded - Partian troop tree
- Added Heavy Cavalry
- Redone the majority of the armors and weapons
Expanded - Germanic troop tree
- More cloth variation
Expanded - Sarmantian troop tree
- Redone the heavy cavalry
Redone - Dacian troop tree
Redone - Numidian troop tree
- Adding more clothes/headwear
Redone - Celtic (Scotti and Caledonian) troop trees
- Giving more cloth variations.
- MINOR -
Changed - Party compositions
Changes - Party (Settlement) sizes
Changed - NPC Faces (Lords)/Fixing the odd hair/beard combinations
Changed - NPC Names (Lords)
Changed - Troop faces giving each faction it's own specific faces
Changed - Townmen in the Roman Empire now have some more suited clothes.
Removed - Troop duplicates
##Campaign Map##
Changed - Town/Castle icons
Changed - A few settlement positions
##2D##
Added - Various new banners
Changed - Faction banners
Changed - Factions arms
Changed - Various Backgrounds
Changed - UI - CWE
Changed - Ground textures
##Text##
Changed - Factions names
Changed - Various of Christian mentionings to a more accurate religion. Still a heavy WIP though.
Fixed - Wrong settlement names
##General bugs##
Fixed - Missing strings with formations
Fixed - Variours odd armours.
Fixed - Missing textures
Fixed - Several inland towns that had ports.
Fixed - Some other Errors...
##Items##
Added - New German clothes, armours and shields.
Added - New Tunics,
Added - Standards
Added - New Linos
Added - Various Greek/Macedonian armor, helmets and boots.
Added - Greek Falcata's
Added - Greek Hoplons
Added - Greek Spears (Various sizes)
Added - Pathians coats
Added - Eastern headwear
Added - Numidian equipment
Added - Various new Bump and Spec maps
Added - Roman Hamata variations
Added - Eastern footwear
Added - Roman shields
Added - Parthian shields
Added - Arabian clothes
Added - Eastern Shields
Added - Various Armenian equipment
Changed - Item prizes
Changed - Hamata stats
Changed - Scutum hitpoints, speed & weight
Changed - Gladius speed & damage
Changed - Spatha speed & damage
Changed - Celtic Sword speed & damage
Changed - General/lord item stats
Changed - Various high stat items so you can't loot them. (General helmets/armors)
Changed - Falx stats
Changed - Germanic shield stats
Changed - Celtic helmets stats
Changed - Germanic/Celtic cloth stats
Changed - Germanic/Celtic mail stats
Removed - Native items from the shops that aren't used
Removed - Tons of brytenwalda shields
And a lot more things that I most likely forgot to mention.
##Other##
BRF files re-organised
Troop codes re-organised