Hot from the build script is a new build which is now available for download via the Isomer launcher. It wasn't until I compiled the changes list that I realised how much has actually gone into this, so without further ado - here's the run down.
Firstly, a big change. There is a new block type called the portable power core, as the name suggests this is a mini version of the important block in the middle of your dropship that you need to guard. There are some structures now that can only be built on top of one of these: the healing totem, mutation pad and transporter pads. Any existing healing totems you have in any existing worlds will continue to work normally, but you won't be able to build any others unless they are on top of a portable power core. Another change - you can now only mutate your workers when they are sat on top of a mutation pad. This feels more realistic as it never felt right to me that you could perform a mutation anywhere in the world no matter how far you were from your nearest base, although all distance is now relative thanks to the next big change which is .. transporter pads!!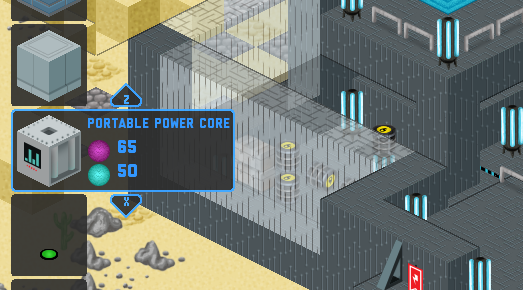 Yes! Transport pads, something that has been requested on the forum for a while now make an appearance. These useful items can be built anywhere (as long as they are on top of a portable power core) and allow you to beam your units around the world quickly and easily. Warping to the nearest healing totem or throwing reinforcements to the site of a enemy building assault has never been easier!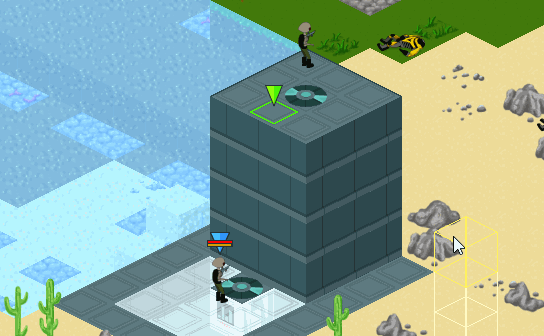 There are also a large number of minor changes like new glass blocks for both aliens and enemies, a number of new building types to encounter in the world (twenty in total now!) as well as new world items. Enemy AI has received some attention also to make it less consistently aggressive and reduce the number of units assaulting player bases (I made things too hard accidentally in the last build).
Lastly a cautionary word - guard your portable power cores

Here's the complete list of changes:
New: Added new sprites for ice blocks.
New: Added new blocks for human and alien glass.
New: Added human banner, transporter and mutation pad sprites.
New: Made Alien glass block buildable.
New: Added a number of new building prefabs (now 20 different variations of buildings that can be encountered)
New: Healing totem can only be build now on a portable power core.
New: Added transporter and mutation pads which can only be built on a portable power core.
New: Added portable power core block.
New: Enemy AI now looks for portable power cores to attack just like the primary power core (although the latter always takes priority if both are detected).
New: Sprites on top of blocks will also flash when that block is being mined.
New: Units can only be mutated now when on mutation pads.
New: Added transporter animation effect.
New: Build menu now displays name of each build option.
Improved: Updated LoS function to include considerations of transparency for lighting.
Improved: Improved diagnostic logging around pathfinding and entity logic.
Improved: Modified a number of prefabs to improve lighting, add glass or optimise geometry.
Improved: Made healing totem slightly more expensive.
Improved: Reordered build list to group similar items better.
Improved: Minor entity movement refactoring.
Improved: Changed entity aggressiveness weighting and adding two extra levels of aggression.
Improved: Changed enemy aggressiveness level calculations.
Improved: Lengthened day/night transition time.
Improved: Unit stats HUD segment only displayed if a unit is selected.
Improved: Added distinction between night time and day time music and added night time music track.
Improved: Added event notification when an enemy build becomes disabled.
Bugfix: Fixed potential crash in logging of invalid movement position deregistration.
Bugfix: Made enemy units spawn less frequently.
Bugfix: Tweaked building prefabs to reduce enemy unit traffic on lifts in temples.