Hello,
R2MobileStudio is pleased to announce the release of B-Squadron FREE : Battle for Earth for iOS, a free version to their arcade shooter developed for iPhone, iPad and iPod touch.
DOWNLOAD IT NOW ! IT'S FREE !
Itunes.apple.com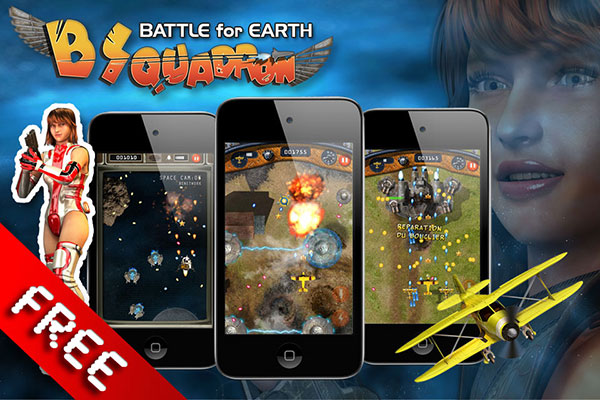 Feature of the FREE version:
- 6 increasingly difficult levels and a tutorial level;
- 2 graphically different universes;
- Numerous weapons and bonuses;
- Numerous enemies and bosses;
- 4 options for piloting the ship (direct touch,relative touch, slant, and joystick);
- 3 levels of difficulty;
- Universal application (iPhone/iPod/iPad);
- French and English versions;- Integration of the Game Center (online Rankings and Achievements);
- Superb original musical score by Jason Graves.
Get the "Full Game Pack" at only $0.99 (in App Purchase):
- New difficulty : Bullet Hell !
- More Levels (Battle for Earth, Steampunk Desert, and coming soon Steampunk Nautilus) !
- New control mode : arcade joysticks (iCade controllers) !
- No Ads !
Device Requirements:
* iPhone, iPad, or iPod touch* Requires iOS 4.3 or later
* Universal app optimized for display on all iOS devices
Links:
WebSite : B-squadron.com
iTunes : Itunes.apple.com
Contact: contact@r2mobilestudio.com
Facebook : Facebook.com
Twitter : Twitter.com
Pricing and Availability:
B-Squadron FREE : Battle for Earth is FREE and available worldwide exclusively through the App Store in the Games category.
Best regards,
Régis
RIGALR2MobileStudio