"I was intently observing the inky black sky slowly looking at one star after another, when suddenly one of them got even brighter and started rapidly falling across the sky until the last beam of light hid in the all-embracing darkness... I wonder why do they fall?... and where do the comets come from?"
How could a little eight-year-old boy know about the Oort Cloud way back in 1979? However, he believed that there was something bigger; beyond the Sun and our Earth... And he was convinced that someday he would learn what that something was and he would tell the whole world!
Arseniy is the executive producer and the lead game designer of the AstroLordsproject. He holds a degree in acting and movie directing. He first entered the game industry as a scriptwriter for Nival's game Blitzkrieg2. He got hooked and never left! Since then he has worked for established companies like Nikitova (Persha Studia),Vogster and Gravvit. Launched dozens of projects in various genres and for different platforms including consoles. His last project was MyLands: a fantasy MMO strategy game, which became very popular in Russia and the FSU countries.
Now, after having spent 10 years working for established companies, he finally has an opportunity to create his own game. And it was definitely worth the wait! What will the game be like?
The Estonian astronomer Ernst Öpik first postulated the theory of existence of the Cloud in 1932. In the 1950s the idea was independently advanced by the Dutch astrophysicistJan Oort as a means of resolving an astronomical paradox: over the course of the Solar System's existence, the orbits of comets are unstable; eventually, astrophysics dictates that a comet should either collide with the Sun or a planet or should be ejected from the Solar System by planetary perturbations. Besides, the comets' volatile composition means that they approach the Sun again and again, the radiation gradually evaporates them until they disintegrate or develop an insulated crust, which prevents further evaporation. Thus, Oort argued, comets probably could not have formed in their current orbits and must have spent almost the entire time of their existence in an outer cloud.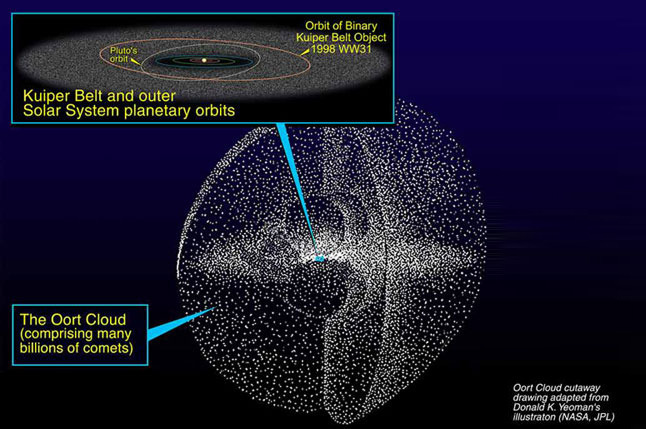 Oort Cloud cutaway drawing Donald K. Yeoman's illustration (NASA,JPL) "That is exactly the place where I want to settle my players! In the Oort cloud! And this should be a boundless game universe!"- Arseniy contemplated before he went to sleep at night and when he woke up in the morning. "No sooner said than done!" After 2 years of hard work he is happy to present a beta version of a next-generation 3D MMO strategy game with (!) battles controlled in real-time!

Oort Cloud universe in Astro Lords game "Players will never play anything like this!", "a game that defies genre!" his colleagues criticized but Arseniy knew exactly what he was doing. He did not wish to create anotherOGame clone, nor did he want to waste time waiting for constructions to be finished or looking through reports filled with bare numbers instead of fascinating battles. At the same time, the engrossing dynamism of HMM4 made it stand out of the crowd and of course, how could anyone forget one of his favourite games - the classic Master of Orion 2being a constant source of inspiration.
Astro Lords, however, is something completely different, an example of a new generation of strategy games! It has both: a rich plot full of deep storytelling and innovative new game mechanics - including the movement of bases around the game world. These game mechanics could become a model for future games to follow.
The concept of the game is based on cutting-edge scientific theories. All the players are stationed in the Oort cloud - a spherical region that is part of the Solar System and the source of long-period comets such as the comet Hale-Bopp. So far, the existence of the Cloud has not been proven empirically, however some of the objects pertaining to the Cloud have already been discovered. Each player builds their bases on asteroids. New players start the game in the Kuiper belt, where their asteroids remain fully invincible until the players learn the art of moving the asteroids and directing them into the Oort cloud.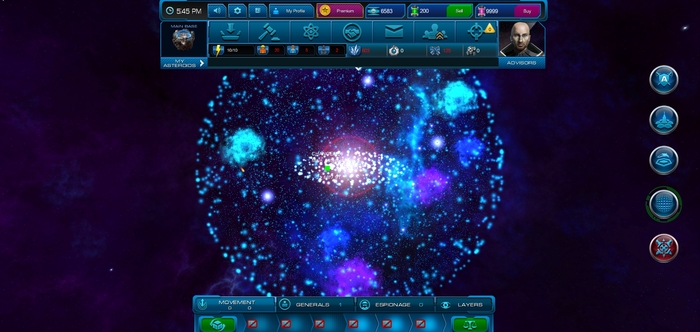 In-game screenshot of Oort Cloud scene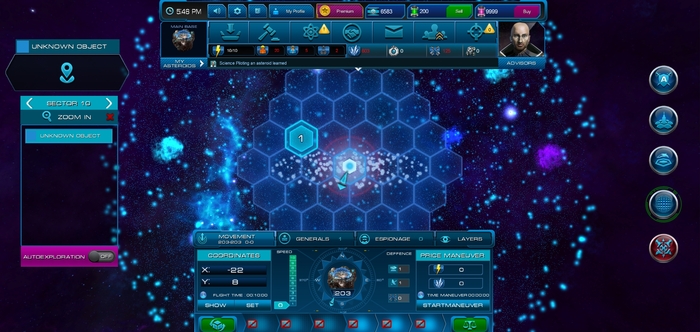 In-game screenshot of Oort Cloud scene
So why is Astro Lords considered an example of a new generation kind of game?
First of all, it is a new look at real-time MMO strategy games: in AstroLords everything is three-dimensional - bases, buildings, ships, asteroids... Another original feature is thecombination of a strategy game and real-time battles. Furthermore, real-time play can be launched from either the arena or when a new attacking mission arrives. Nevertheless, players can always assign the command in battle to the artificial intelligence of their generals and fully concentrate on just the strategy part instead. Yet another unique feature of AstroLords is a fully dynamic global world map: all the player bases move in space and players can control their movement -steering them to special zones represented bynebulae or trade stations. The game combines an in-game economy with military strategy and RPG elements.
The game was inspired by such famous strategy games as OGame, Travian and MyLands but it has taken a step further to the next level in the development of strategy games.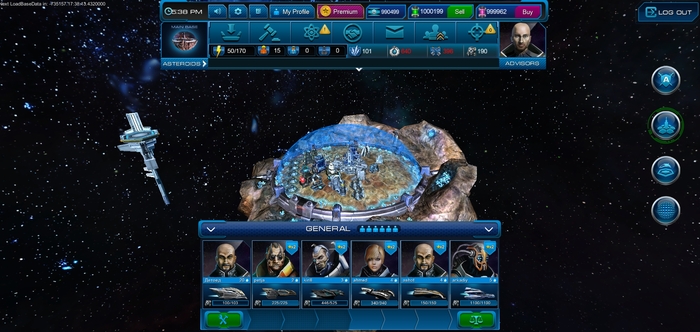 In-game screenshot
While thinking about the Oort cloud Arseniy began drawing and composing music - 20 years of practicing music have not gone to waste.
Check one of his draft soundtracks in the following video here
Moreover, there is no doubt that Arseniy's experience as a game master in AD&D (Advanced Dungeon & Dragons) and its 2nd edition in particular has greatly influenced the development of the RPG-style system of generals in AstroLords. After having guided dozens of travellers across hundreds of D&D modules Arseniy formed a clear vision of the right game design and balance implementations.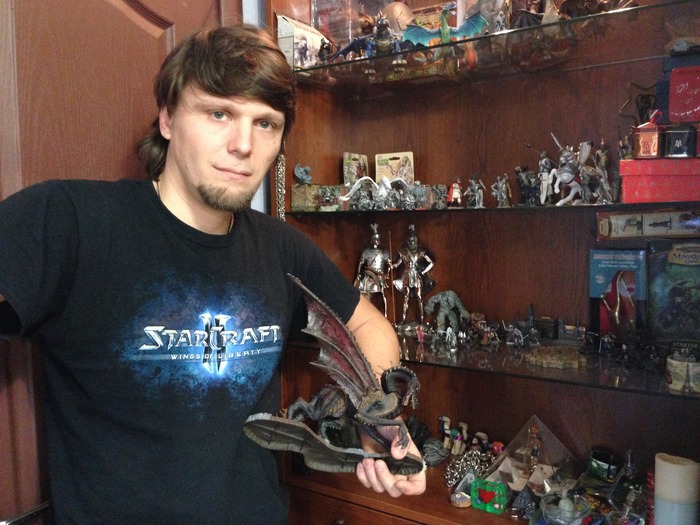 Arseniy and his AD&D collection
See the video here
According to Arseniy's insights the secrets of AstroLords' success are:
1 - Competence and experience
2 - Creativity and passion
We have a great team of like-minded professionals and we believe in AstroLords!
Now it's your turn to believe! Support Astro Lords now!