Hello everyone,

this Covid-19 situation is affecting us all over the world, and most of us are now quarantined.
Measures like quarantining seem to be the best to help slow down the spread so medical organizations can keep up, but we realize being "caged" to our apartments can be tough for many of us.
So during these times, we want to do our bit to help you all through this period and help keep you occupied and entertained 😊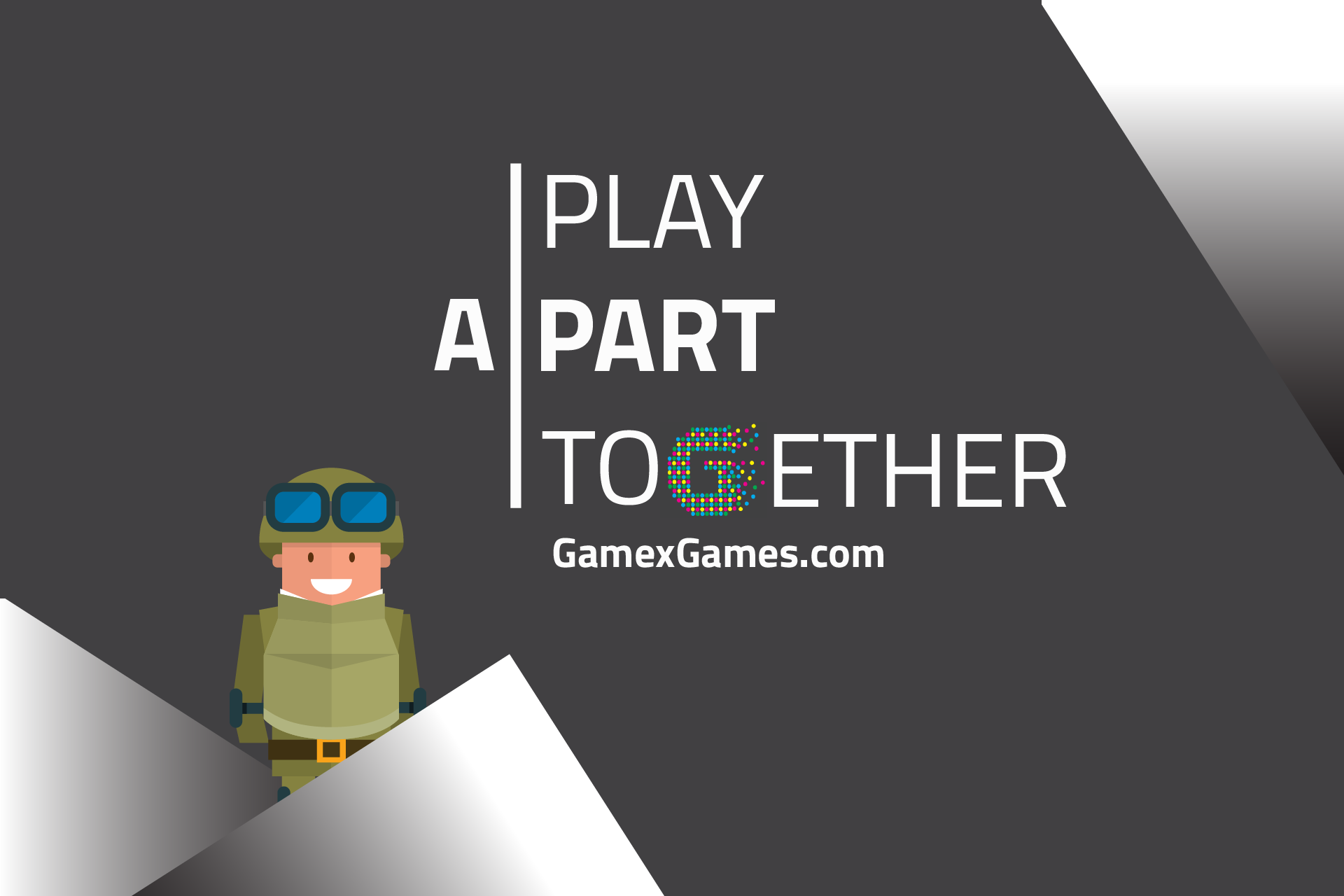 So we are now running the ''longest event ever made on War Clicks'' – a 40-day quarantine "event" (ends on 10th May) where players will get a x2 Boot Camp production multiplier and a x2 War Zone DPC multiplier.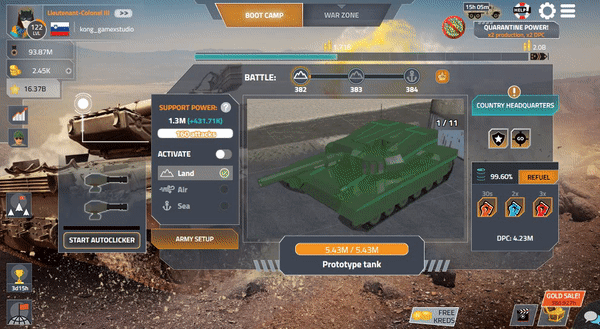 Quarantine Event: x2 DPC + x2 Boot Camp Production


The name and the practice of the 'quarantine' as we know now, began during the 14th century in terms to protect coastal cities from plague epidemics. Ships arriving in Venice from infected ports were required to sit an anchor for 40 days before landing. This practice, called quarantine, was derived from the Italian words 'quaranta giorni' which means 40 days.

For those historical reasons/ facts of the name quarantine and also as we want to give back to our community and help make the quarantine days as exciting for players as possible, we decided to start with the 40- days Quarantine event, where we are giving out 40 extra CODES (1/day) where users can claim in-game rewards, and running a 40% extra gold sales during all 40 days – that's the biggest extra promotion of Gold we ever had!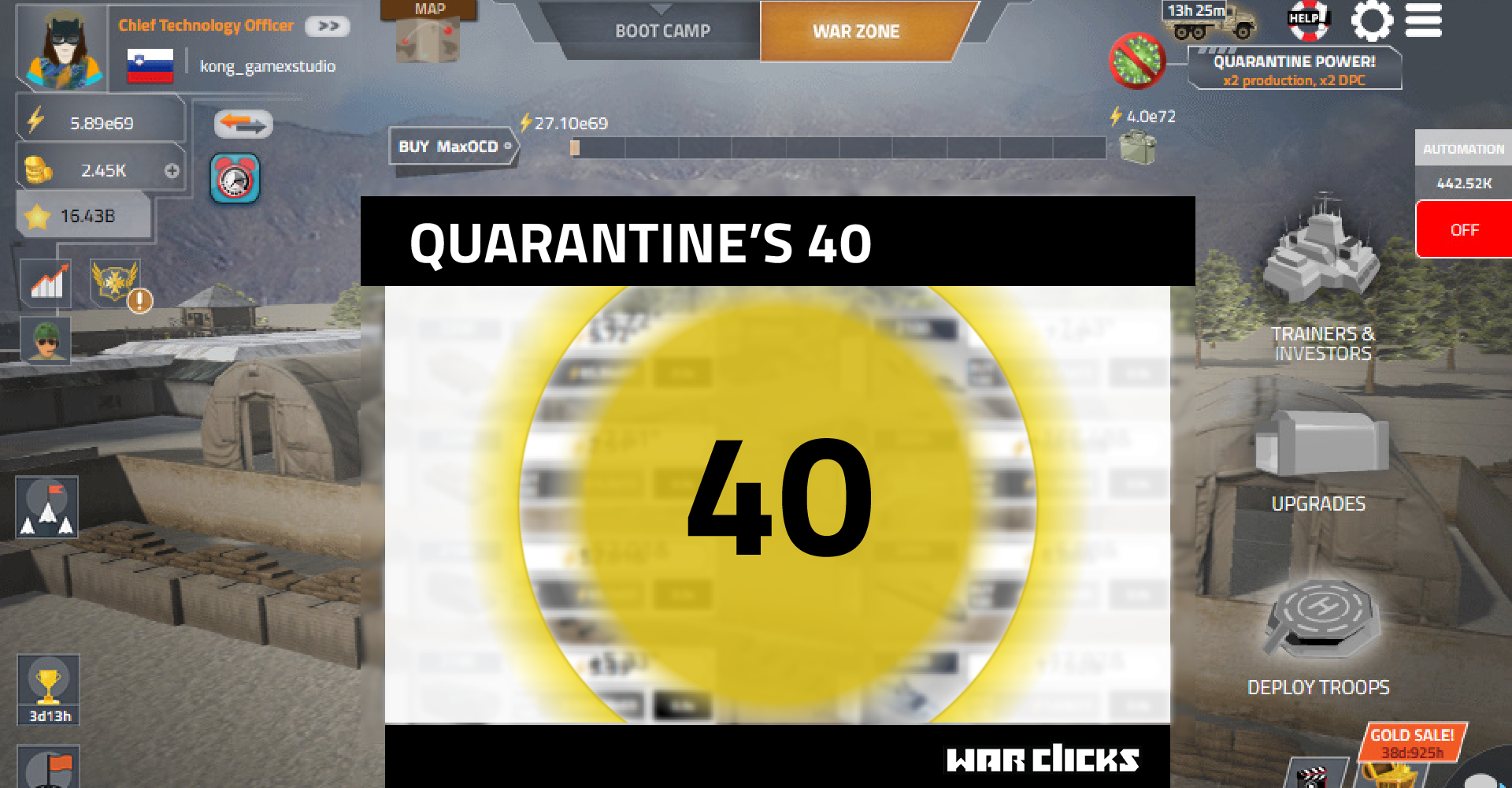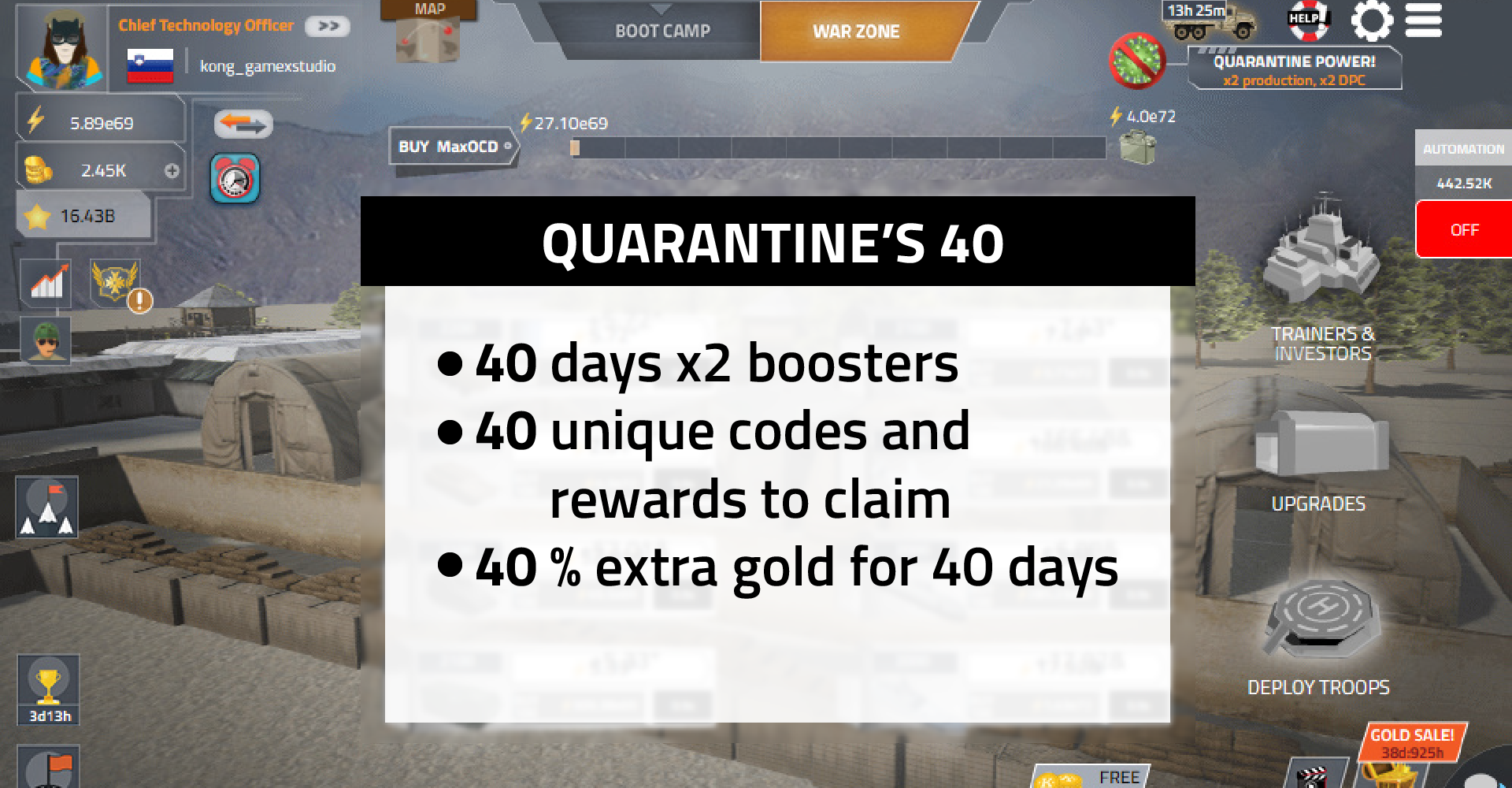 This is all running already, so in case you'd be playing War Clicks, you'd start getting all those extra bonuses. War Clicks is also way better played if your friends are around, co-op elements, competitions and social elements with country chats can help make your quarantine more fun and easier to hold on.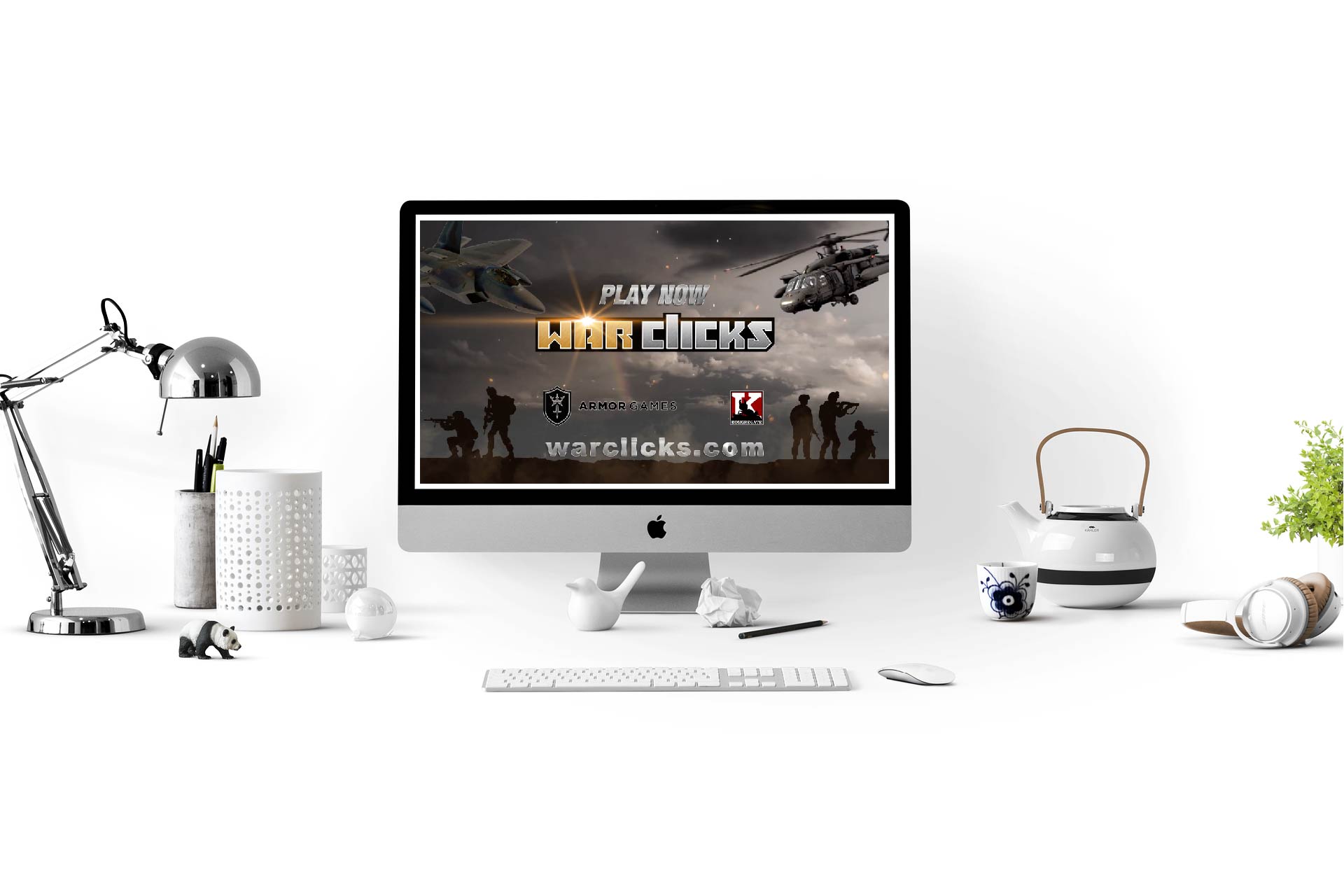 What's still COMING UP in the April/ a quick recap:
- On top of the quarantine boosts, there will be a short event around Easter- We will be removing video ads completely. X2 production boost from video ads will be replaced and now received simply by claiming the day's activity rewards -> you will get this on top of any existing rewards. Gold & fuel rewards from War Zone ads, will be added to activity rewards as well. Exact details of how activity rewards will be changed we don't have yet, but you will still receive everything you otherwise received via ads.
- Adding at least some of the following as research upgrades (which ones and how many of them exactly, depends on time available) : WZ HQ upgrades/rank/level multipliers, Let users finish Country Invasions with 1 click, removing fuel overflow on x2/x3 DPC, faster research times...
- re-balance WZ HQ upgrades tiers further (Above e50 cost)- After much deliberation, we will not be doing a "full Country HQ rework", as changing existing content drastically gets very mixed response from our players. There is no simple solution to various current issues that would satisfy everyone and also be relatively easy/quick to build and something we could afford at this moment. We will instead be looking into several ways to improve the current structure, balance and rewards. We will also look into some potential ways to change/adjust countries. As always, if you have any ideas/thoughts on this, we have a whole discord channel dedicated to this topic here:
Discord.gg
- We'll be looking into some PvP improvements, at the very least some quality of life changes, to make decisions on who to attack easier
- Look into other minor changes/bugs, just to name some: Give a notification if you have any PvP points to spend, adding extra late-game goals, resolving some e308 bugs...We will focus on first getting as many of the smaller updates ready, and try to save as much as time as possible for doing Country HQ improvements.
Most of these updates will be released in one bigger update, most probably during 20th-30th April, but some of the smaller ones (and any bugfixes), will be released as soon as possible!
We hope you enjoy April with us, especially with the exciting quarantine events we've set up :)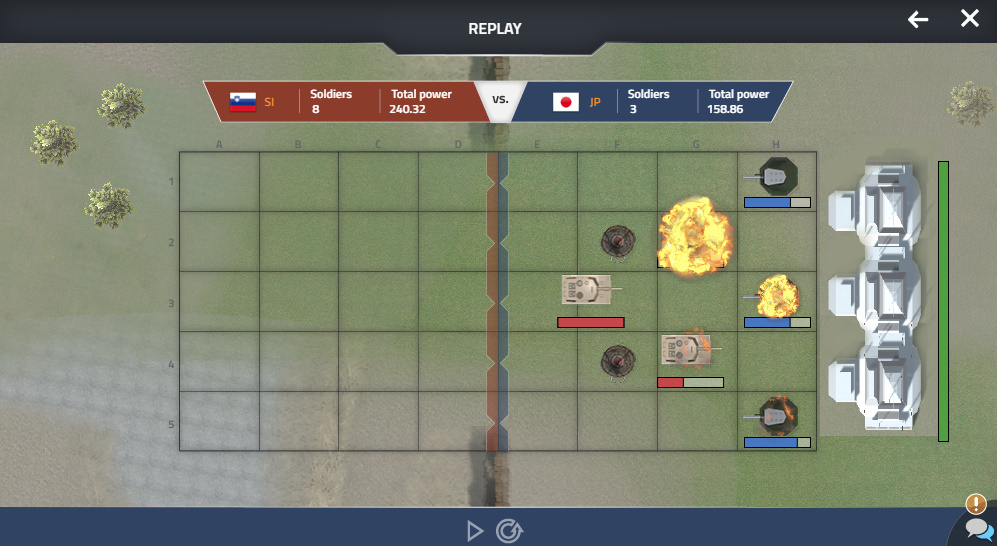 ________________________

If you have never tried War Clicks, this might be an excellent chance to give it a try. We'd love to hear back from you guys, feel free to join our community and let us know what you think, what you find useful (or less useful? 😊 )…

Thanks for reading/checking this out, stay safe ;)


Play the game on:
Official game website
Kongregate
ArmorGames
GamexGames

More about the game:
GameDev Blog
Press Materials
Media KIT

Join us on chat:
Discord

Let us know your thoughts:
Facebook
Reddit
Twitter

Play our other games:
GamexGames