Hello ATDD Fans,
I'm glad to announce that EtD will now be continued after pretty much 10 months of inactivity. I started working on the mod half a month ago mainly focusing on file optimizations and organization meaning that now EtD is an IFC (Isolated Full Conversion) mod as mentioned by My Computer and Tanshaydar at the forums. Although it took me some time to figure out how this works, I have managed everything so far. Let's also not forget the time I spent relearning the editors and tools (yes, I had forgotten a lot o things). Moreover, I am now writing down the creator of each custom model I use which is obviously important for the credits in the end.
Beside these, I am now finishing the 4th map (the Mansion) which is the biggest so far and also I have started to use many custom models which makes the mod way less Amnesia-ish. This is a sneak peak: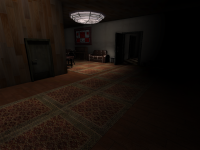 I can tell you for sure that the game will not be released soon as I am now looking to rest for a while. I am also going to use the Amnesia Machine for Pigs improved outdoor environments as well any new addons, models, fixes or scripts. Recently, someone was also making a working gun for Amnesia which I hope will be able to use only on very rare cases as the original Unbirth did.
Last but not least, remember to check the forum thread of EtD since sometimes ModDB does not authorize everything right away.
Well that's all for now! :)