Well i wanted to make a second update to the blog before the new year and i do have a few things to comment about the development of Saint Alice. Firstly i have been making some solid progress in a few regions of the game, one of them in special that had been in "stand-by" for quite a while. Again, i dont want to show a lot so people can discover the peninsula with their characters but i suppose that a few previews wont hurt the experience:

The first one is inside the biggest forest in Saint Alice near a mercenary outpost protecting... well you will probably discover it during the game, the second well its just a random screenshot of the forest. But well i mainly wanted to take the opportunity to talk about a very important aspect in every open-world game, how big is the world? how big is Saint Alice? well, below there is a mapshot of a "map" one of the zones that composes the peninsula of Saint Alice: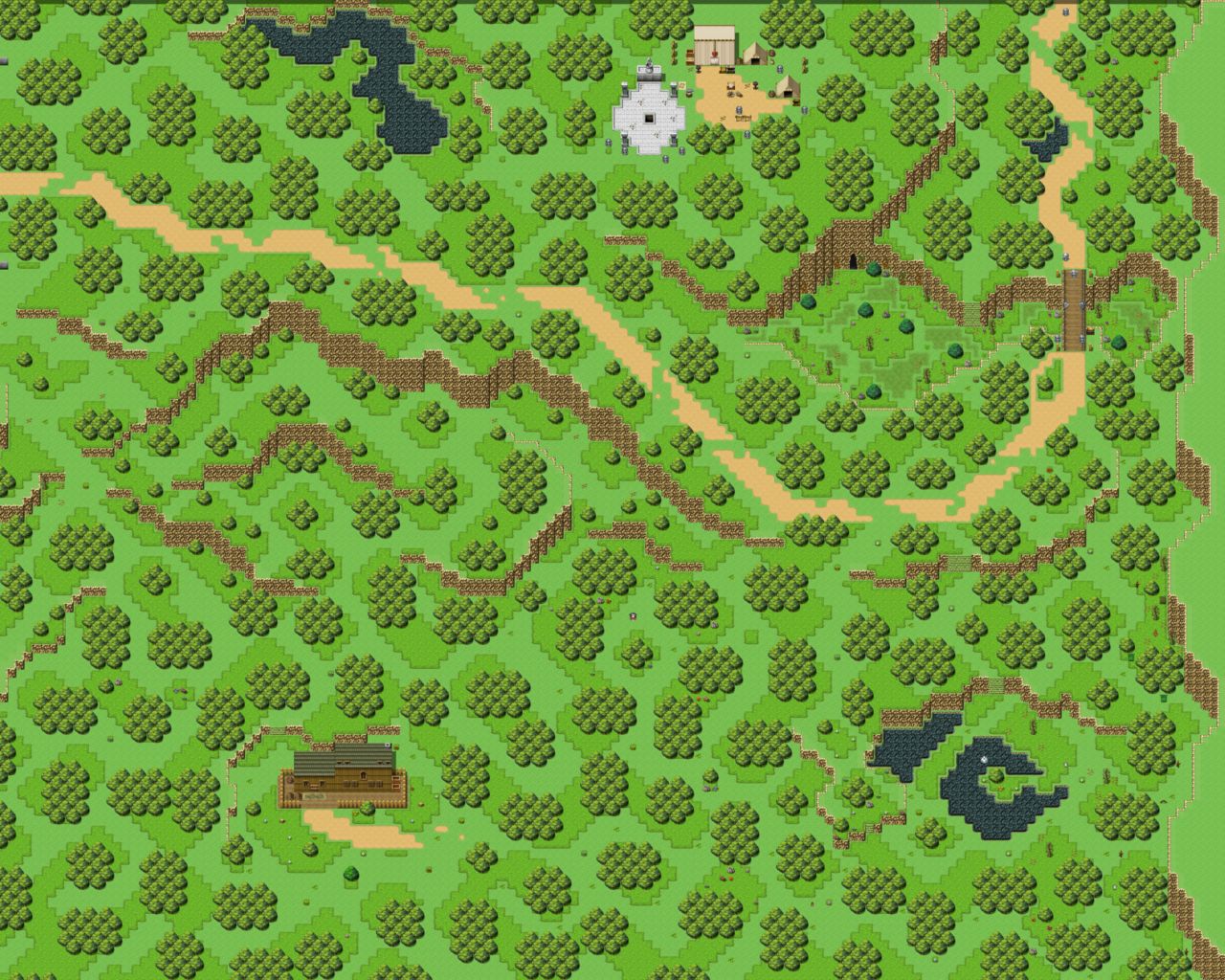 There is a few characters on the bridge and one on the north end of the parth so you can have a rough idea of how big it is, well the landscape of Saint Alice is composed of 27 of those maps, for the landscape alone so it doesnt count interiors or even cities and settlements, the road from a city or town to the nearest settlement is generally 3-4 of those maps long so i think that you all can start to have an idea of the size of Saint Alice, exploration is an important aspect of the game as any open-world game and we have a game world that spans over four different regions/biomes and a various "dungeons" and landmarks to explore and find, if you are like me and enjoy getting across that "hidden" location or that odd landmark while travelling to any other place, then i am workig for you!

But, how much of the world is already done? well currently we have 8 completed maps, 1 basically done and one i am working on so that basically makes 10 maps that are already there. To be honest the "completed" maps arent technically completed as they still need to have details/decorations added but thats a process that i plan to leave at the end of the completition of every region so every part of each region can have an uniform look.
Now just to end i want to show a little bit of my progress with the cities in general, i love to work in the landscape, interiors and all that stuff but cities have been a headache for me, still i think i have done a good progress specially if you compare one of my earliest tries (right) and the most recent one (left). there is a world of difference. But this is just a test for now it isnt intended to be one of the cities or towns of the game, i am just testing although i really like how it looks.