In Meridian: New World, enemy AI has easy, normal and hard difficulty settings.

Easy mode sets less money than the player and puts it at a disadvantage. Normal has equal chances and hard gives it a bit of a cheating edge. Still, all three difficulties are fundamentally playing by the same rules, weighing events and responding the same way.
In Meridian: Squad 22, there are Easy, Normal, Hard, Very Hard and Insane AI difficulties. You'll encounter each in the campaign and conquest modes. Unlike its predecessor, Meridian: Squad 22's AIs store a list of possible decisions and each AI chooses the next move in a different way.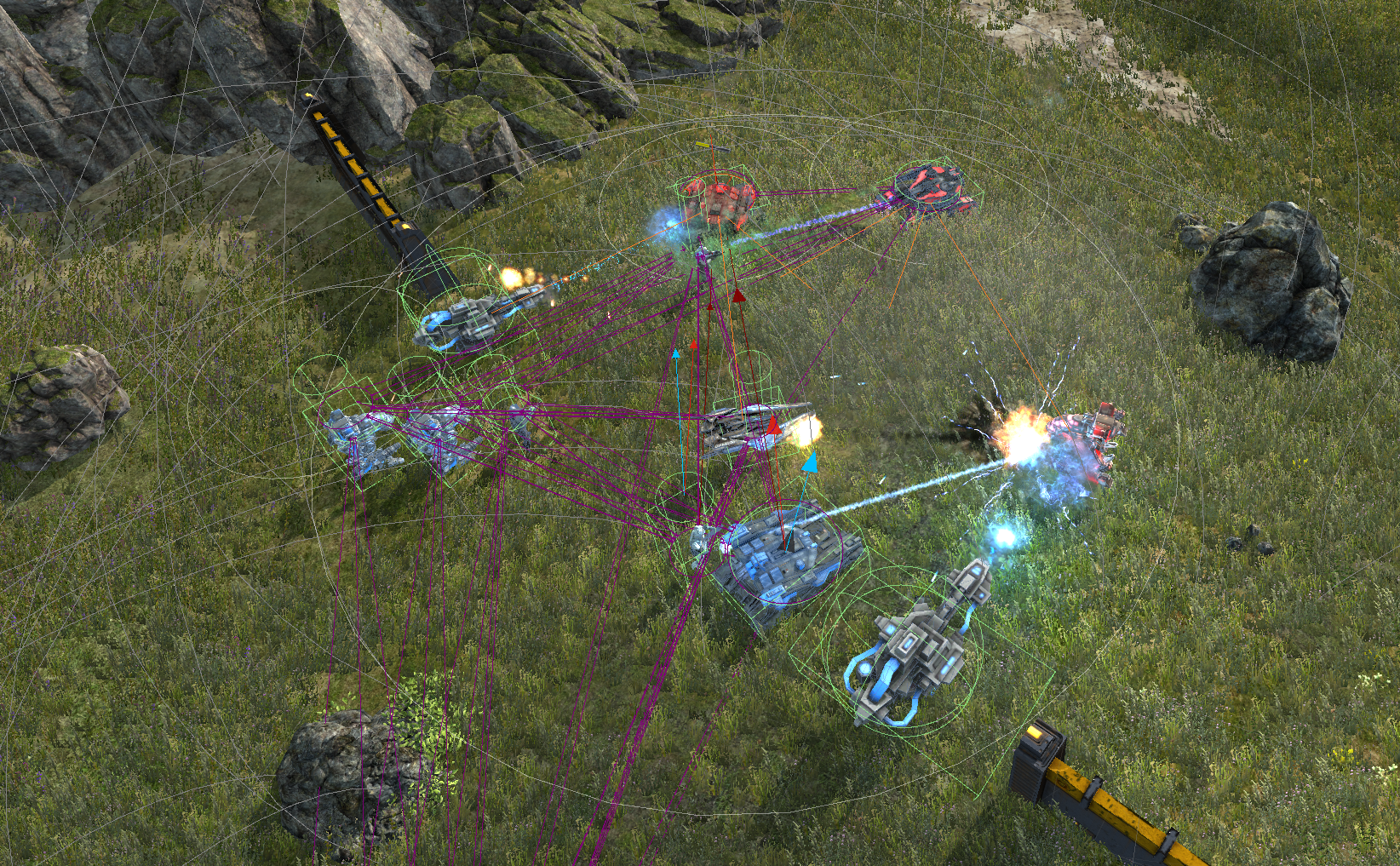 Above: Visualization from the game's editor of the AI evaluating possible tactics. Your own units also evaluate their own moves to be able to choose the best possible reaction. The various AIs weigh information differently. For instance, the Normal AI will have a hard time responding properly when you attack it on multiple fronts. It will focus on both, but it's not good at deciding how to split its forces. In this same situation, the Very Hard AI will almost instantly react with the most effective solution possible. Because of this, playing against the various AI difficulties truly feels different. Harder AI difficulties present a challenge because of their way of thinking. Similarly, your own units analyze the current situation and choose the best solution to make sure you deal the most damage. This, of course, is overridden by your own commands, so if you specifically order your units to attack another, the AI won't decide on its own to attack something else.
Above: The same scene in-game. See how your own units choose the best targets to be able to deal the most possible damage before their own HP runs out. For example, your tank in the middle deals higher damage to enemy vehicles and since it's low on health, it chooses a vehicle target for maximum impact.
Thanks for checking this out, be sure to check back next week as well as more will be discussed about Meridian: Squad 22!