The Paradigm conversation system in Ambrov X is designed to offer the player a more fine-tuned control of how they want to play through the game. Although on the outside it may seem like a minor change from existing dialogue systems, internally it gives players an incredible amount of influence over how the game plays. We hate the idea of good vs. evil, because that is completely unrealistic. In reality, there are many shades of grey. That being said, there are 4 Paradigms players will be able to choose from at key points in our game. Each one reflects a particular play style.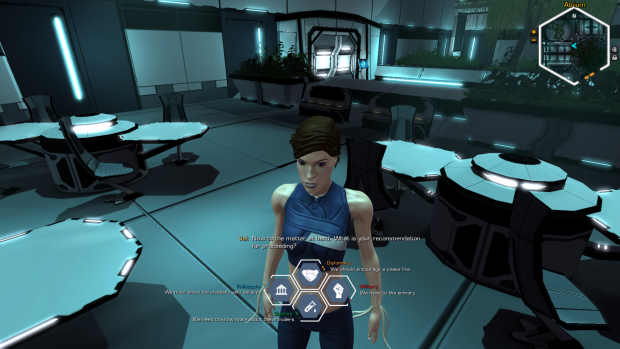 Military – This is the most "traditional" of the paradigms. While the military approach is generally one of combat, it won't always be so. The Military paradigm will also lead players down a path of strategy, defense and covert ops. Destroying one's enemies and bringing justice to fallen friends, is only one aspect to this complex paradigm.

Scientific – By picking Scientific dialogue options, players skew their missions toward exploration and discovery. This paradigm is for people who want to delve into knowledge, learning as much as they can about the world around them and the people they are interacting with.

Philosophic – Philosophic dialogue options are for players who like to ask big questions: not "What is this and how does it work?" but "Why is the world like this and can it be fixed?" By selecting philosophic dialogue options, players are choosing to take their missions down a more story-oriented and less immediate route, potentially sacrificing "success" at their objective to achieve a larger goal.

Diplomatic – For those who like to avoid combat, diplomatic dialogue options offer players a path through missions focused on peacefully resolving issues with enemies. This doesn't mean there will be no fighting on this path, but the player is setting the stakes of the mission so that the deaths of all enemies would be considered a failure.
The paradigm options players choose will have a very large impact on how the game plays. The system is still under development right now, so we will avoid going into too much detail, but decisions you make through the paradigm system will have a direct impact on the outcome of the people around you. Obviously, not every dialogue option will lead to the same level of branching, but there will be enough key moments and quests to allow for tremendous differences in the characters, the stories and the outcomes of the game. Each choice should resonate with the player. We want you to be screaming at your screen when you make a decision that you regret. We want the decisions to have a real impact on your emotions, rather than sticking to generic emotionless killing. The idea is to put the tools into your hands, to allow you to tailor your Ambrov X experience to exactly how you like to play. Every choice you make should help you come away feeling like your choices mattered and like the game was designed just for you.
Ben Steel - Lead Game Designer, answers the question: How does the Paradigm Conversation System differ from other systems? Check it out!