presents you...

We are now preparing for our Alpha internal testing!
Dear fans,
During the last week, we have setup our compiler tools, install.exe - together with auto update functionality to assist in our testers keeping up to date with the latest version. Across the course of the last month we have been very busy on the code and art front, making continuous updates on a daily basis:
Latest Updates:
- flashbang is fully coded in game as intended, we have an initial "white out" flash effect which is dependable on distance to explosion, followed by a retinal blur and circle that fades out after and is angled accordingly to your FOV with the point of source.
- our concept menu for offline/ single player mode has been completed and is currently being put into scaleform and flash; ready for exporting in to game. It looks brilliant!
- our character select menu has been re-worked, now included a random button and made smaller to take up less of the screen.
- minor adjustment to our "select best weapon" feature bind, so it now ignores the bomb and grenades.
- updates to our input settings menu to now warn if a button is already bound, user friendly key for us.
- ability to now change the hardcoded udk console keys from the standard TAB key.
- final round "announcer sound" now playing at the correct point, when the map time reaches 0 and there is still a round in action.
- weapon icons were displaying the wrong weapon names is now fixed
- sniper zoom would continue to show on map change.
- it is now possible to swap the weapon to the "left side" as well as the right, giving more comfort for those left handed players.
- players now drop money when being killed, which can be visually seen by all players and picked up.
- fixed an issue where our loading screen "tips" would overlap one another when in window mode.
- flashlight works in a multiplayer environment and is replicated in game, is now bindable.
- fixed an FRendersource crash that was happenly randomly, was bugging us for ages.
- hostages are more easier to control, follow and stand still when instructed. We also limited the distance you could control them
- Renders updated for our four different 3rd Person character models. They now look even better!
- our maps have been built to production quality and are awaiting our alpha tester itchy hands to test out our gameplay to the fullest; concentrating on speed, movement, flow, objective gameplay balance and weapon balance.

Still TO DO:

- fix the bullet casing ejections; they sometimes come out too slow or from the wrong place.
- store the last used crosshair type in an ini file to remember the players preference
- Still find a way to replicate our weapons and weapon icons to show in spectator mode (hard work, as this is hardcoded and we need to work around this issue).
- get sounds made and plugged in for our latest weapons in game; DE, SCAR H, HK g3ka4, Raging Bull, Desert Eagle and the Mac10
- finish up and plug in the core remaining UI menus to alpha status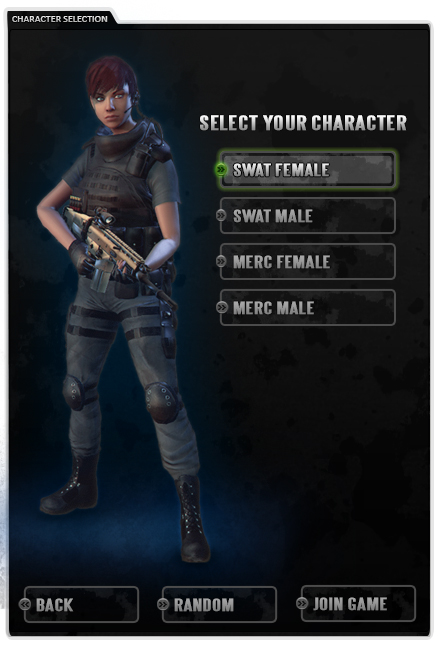 More updates will come on this soon!
Thanks for all of your continued patience – any questions, feel free to ask.
Your CPi Team