AI War Beta 5.061 "*Tackled*, Medic!" Released
This one adds the first two bonus ship types of the Ancient Shadows expansion: the Zenith Medic Frigate (from one of RCIX's ideas) and the Tackle Drone Launcher (we invented that pain ourselves). Both boldly fill roles where no fleet ship has filled before. Particularly the "push the enemy's ships around like a jerk" role.
This update also adds a third nebula scenario, another step towards the kind of variety we want for champion "offroad" gameplay. This scenario introduces a second Neinzul splinter faction, but it takes a bit of a backseat to the player in this scenario. 5 more champion hull types have been added, including the next size-step up from what's been available previously. There's also 4 new scenario-unlocked module lines for champions available, all of them at least a bit off the wall.
Oh, beating the new scenario can also unlock the Neinzul version of the Modular Fortress. It's pretty similar to the human one right now, but as fortress-versions of some of the champion modules get implemented there'll be more distinction. There's already a pretty big one: the neinzul fort doesn't have multi-repair, but it does have the MkI Cloaker Starship's ability (no, it doesn't cloak turrets, turrets are immune to cloaking ;) ).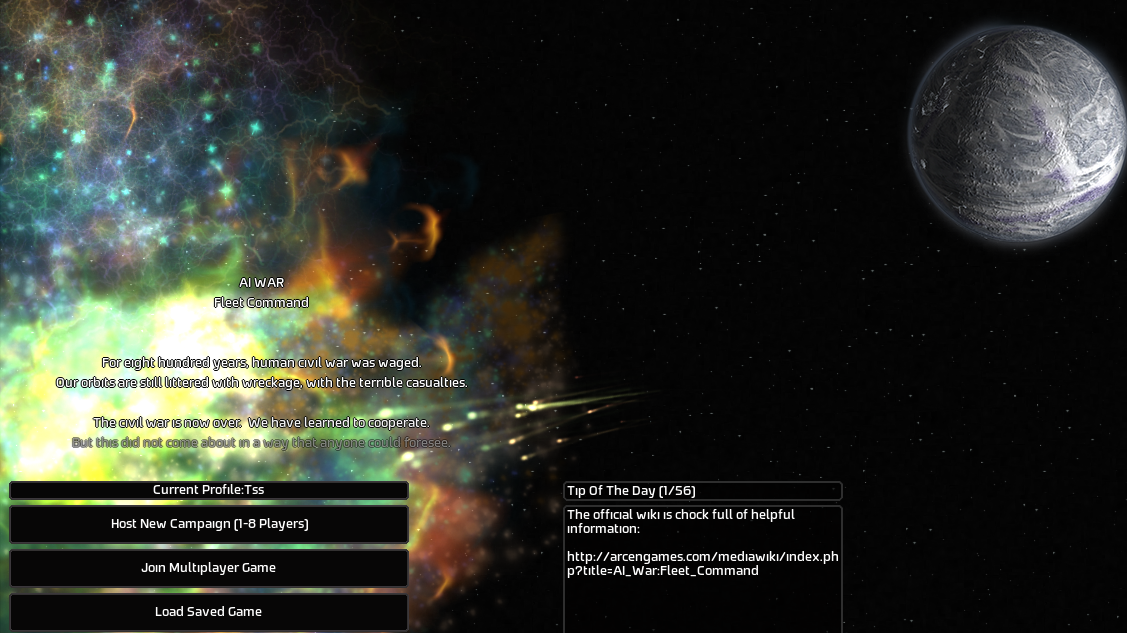 Several bugfixes and a few balance changes round out the update. Notably, MkV Younglings no longer self-attrition, making their fabricators far more useful.
Update: 5.062 hotfix is out include the language file updates I accidentally omitted from 5.061, sorry about that!
Enjoy!
This is a standard update that you can download through the in-game updater itself, if you already have 4.000 or later. When you launch the game, you'll see the notice of the update having been found if you're connected to the Internet at the time. If you don't have 4.000 or later, you can download that here.
Originally posted by Keith Lamothe:
Arcengames.blogspot.com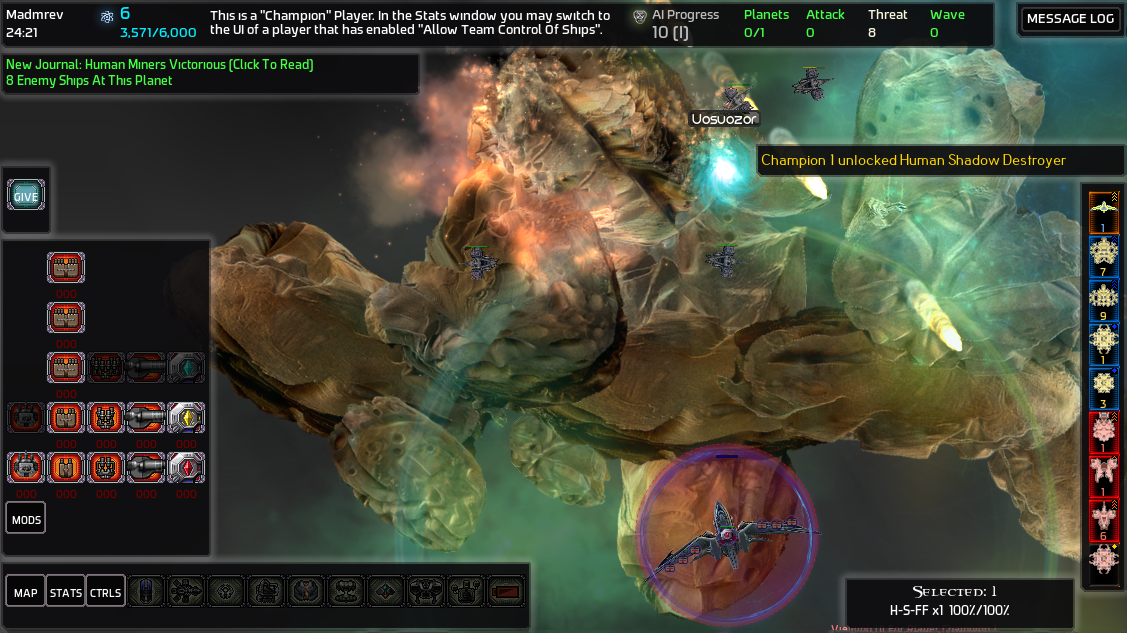 AI War: Ancient Shadows Beta Release Coverage
The AI War: Ancient Shadows beta kicked off this past week, and already we're seeing some great coverage coming in for the expansion. The latest update is out now, offering the first major content release on top of what was initially packed in.
As far as getting the expansion to work with a Steam copy of the base game, you only need to download the installer and point it to the AI War folder in your Steam directory. We've been fielding that question a good amount over the past few days, so thought I'd share that bit of info here. We haven't reached out to Valve yet in regards to bringing Ancient Shadows onto Steam, but plan on it when the expansion is closer to being feature complete.
Here's all the aforementioned coverage that's cropped up over the last few days:
Rock, Paper, Shotgun -- Darkly Devious: AI War Ancient Shadows Expansion
IndieGames.com -- Demo: AI War - Ancient Shadows (Arcen Games)
PCGamer -- AI War Ancient Shadows expansion to add massive modular Champion battleships
The WarGamer -- AI War's expansion Ancient Shadows is now in beta and is available for pre-order
Blue's News -- AI War: Ancient Shadows Beta; Pre-purchases
PCGamesN -- AI Wars [sic]: Ancient Shadows expansion adds modular champion units
Indie Game Magazine -- 'AI War's Fourth Expansion Beta Available Now for Pre-Purchase
RTSGuru -- AI War: Ancient Shadows Expansion Coming October, Beta Launches
I-Luv-Games -- AI War Expansion "Ancient Shadows" Beta Pre-Orders Available
Strategy Core -- Out of the Shade
GameSquad -- AI War Ancient Shadows Beta Begins
GamersHell -- AI War: Ancient Shadows Enters Beta and Screens/Demo
Big thanks go out to these folks for taking the time to write about us!
Originally posted by Erik Johnson:
Arcengames.blogspot.com