Hi, in new version is able to managing saved files, it is made by this window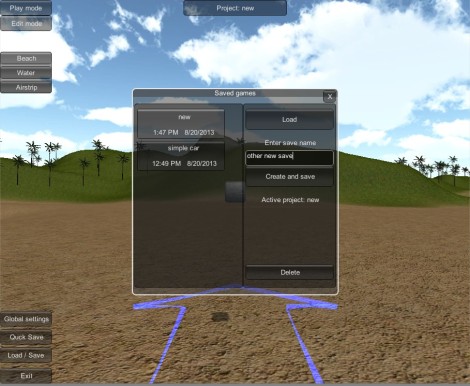 When game starts is not connected to any save files, so if you want to save project you must to name it in "enter save name" box and click "create and save", until that 'quick save' button is active and on top of screen label 'project' show save file name.
Save files are XML scripts, that allow to easy edit it in notepad and give huge flexibility for backward compatibility .
In window open by "global settings" are options to tune up physics environment.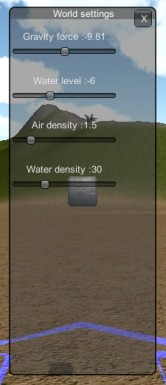 When gravity, air and water density is set to zero, environment is very similar to space, only useful element in this option is rocket engine.
Hight water level allow to test deep diving and low level give more flat terrain.
On top of node inspector are three new slider (red, green, blue), they allow to change node colour.
Key binding allow now to set key like [W] without adding new wheel.
Key [Delete] remove all elements and add one new, like after starting a game.
Wheels, balloons and propellers have new sliders to change they size.
In next update I want add:
- space environment, empty space with stars and maybe one moon to give gravity wheel
- night scenery option in global settings
- spring option in joint node
- new elements: piston joint and stabilizer
- piston work like normal joint but it change they length
- stabilizer prevent to fast rotation in selected axis or can rotate vehicle in any direction, useful in air, space and two wheel thing
- new menu on left side of screen for choosing element , removing it and making a clone
- new method to adding new element, without making node in same place