The final update of 2015
Hello once again Star Wars: Battlecry fans, it's time for another update!
2015 has been a big year for the Battlecry team and we thank all of you for your great support from the start. This is such a fantastic project that we all enjoy working on in our free time and can't wait to share it with everyone.
What have we been up to?
This year we made a lot of progress on every part of the game and released our first video showing off in-engine gameplay on our Cloud City map. We were incredibly excited to show everyone that what we've been working on is real. We decided a video was the perfect way to demonstrate that.
Since the last update we have made massive changes to the layout of portions of Cloud City to improve how they play. Specifically, the outside of the map seen in the video above is no longer wide open and somewhat reflects the design of the Bespin: Platforms map from Pandemic's 2004 Star Wars: Battlefront game.
The HUD effects have been tweaked to look more holographic and improve visibility. We have been working on improving all of the existing character animations and creating new ones. Bugs and other critical issues that needed to be fixed in order to implement new features took up a considerable amount of our time.
We have been experimenting with new technologies such as virtual reality and we would like to announce basic VR implementation in Battlecry along with 4k support. Examples of which can be seen below: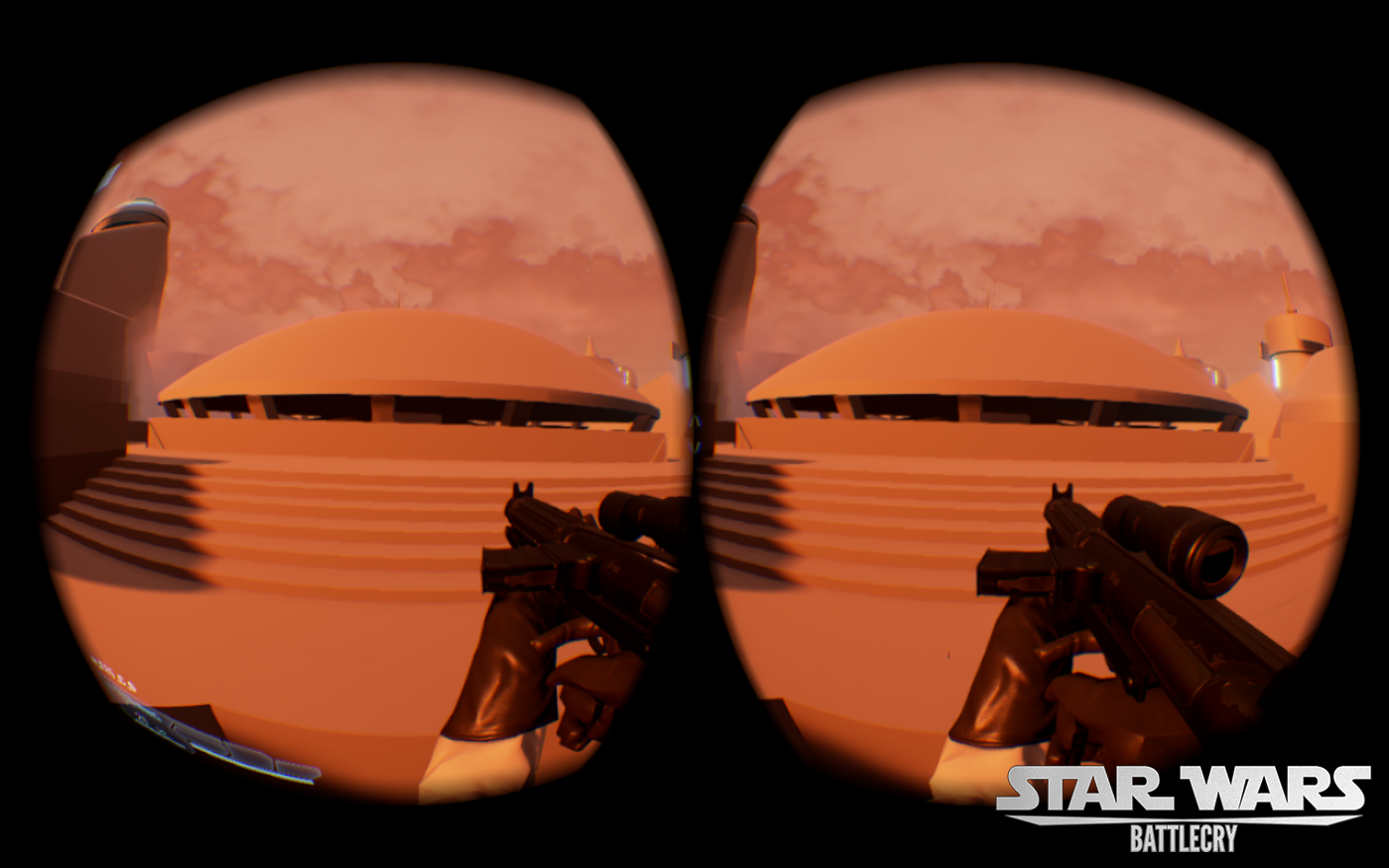 Image captured from an Oculus Rift Development Kit 1
On December 23 we launched a brand new design for our community forums. Every single part of the forum has been retouched to have a consistent design and fix all known issues. Usability was improved on both desktop and mobile by making the design familiar to those who have used other popular forum softwares in the past. On smartphones the forum can also function like an app on both iOS (Safari) and Android (Chrome) by adding it to the home screen.
Indie of the Year Awards
We can't forget to mention the 2015 Indie of the Year awards. Thanks to all of your support, we made it into the top 100 games on all of IndieDB! It was an honor for all of us to be among so many great indie titles, but made us realize we have a long road ahead of us.
What are our goals for 2016 and beyond?
We can't go without some new year's resolutions of course. First of all we are going to continue to make progress on the game to get it into a fully playable state.
This past year we have not communicated as well as we have in the past. After the video we released showing some very early in-engine gameplay, we may have set the bar a bit too high for the amount of content needed to publish a new development update. We are aiming to communicate more with our community and have less of a gap between updates.
We need more developers!
We are looking for more people to help us continue to make this game a reality. If you or anyone you know would like to help, please apply at Swbattlecry.com.
We are always looking for:
Programmers (C++)
Environment Artists
Hard-Surface Artists (Weapons, Vehicles)
2D Artists
Animators
Even if you do something different please feel free to contact us! We may not always respond to everyone, but we always make sure to read everything. We apologize if it seems like we have been ignoring anyone.
The New Year
What a year 2015 has been not just for us, but for the Star Wars franchise as a whole. A new Battlefront that is a blast to play despite some minor issues and the long awaited Star Wars: The Force Awakens! We can't wait to see what will happen over the course of the next year…
Happy New Year and may the force be with you,
The Battlecry team