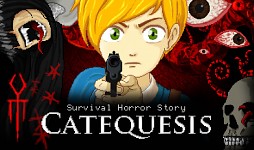 Hola niños y niñas del Club Nintendo! Today we will show you a special material, totally secret, totally horrible and totally "wow what's this pal?!"
Chico: Wow! what's this pal?!
I wanted to show ,at least, a little bit of the gameplay of Catequesis, so I decided make it right and prepare good material for the occasion. We have some new images, new poster, and a weird teaser trailer just here.
Chico: Hey I build these maps! and...with this music... looks like the apocalypse is coming.
The music is piece from one of the greatest Spanish composer Isaac Albéniz, a part of his Suite Española, Op. 47, this special theme is called Asturias (Leyenda).
Chico: Albeniz maked 8bit music?! Hell yeah, that's vision of future.
Aha... well the chiptune adaptation was made for another great Spanish musician, Sergio "Sergeeo" de Prado. A really nice and talented guy who collaborate with us. You can listen more of his work just here: www.sergiodeprado.com
Chico: Ok, everything looks awesome, so what's the next step, when will we see the game done? I want to play now! oh, wait I can play now, because I'm a member of the development group... but how my friends can play?
Well, there is still a lot of things to do yet, but we think the game release can be this Fall. So if your friends are interested in test betas, see videos, images and demos, please submit your mail in our website homepage:
www.catequesis.eu