We marked a special occasion this week where we were able to send our game 'Alternate: Episode one' to steam for certification. The response from the community has been overwhelming. With so much support for our little project it has made it more than a game for us, It's a pleasure for us to make games for so many of our fans.
We came from nowhere in 2010 and now we are at least here on this wonderful website with you wonderful people. We recently started up our own forums on our website (Well it's sort of on our website, it's linked on there if anything!) and we have gotten a few people who have joined and are really shaping up our community on there. Before we knew it we had a dozen active members spring out of nowhere and that was all thanks to this website and this community.
It brings us joy to know that people really like taking part in our little home away from home on the forums, it's something that i never thought would happen, but it has and we are so very lucky for the support we get from everyone, so this article is more of a big thank you to everyone on here and everyone on our website.
Moving on it is Friday so that can only mean one thing: PICTURE OF THE WEEK!
(In my head I totally imagine that picture of the week has a jingle)
Usually we pick a screenshot from one of our many uploads on here and our other portals of publicity, but this week we challenged the small community that we have established on purplefacegames.com & they did not disappoint. They picked a screenshot that we had just recently uploaded to indie db and one that we were very happy to show. The screenshot is a later level screen shot of episode one's Sewer level and we had such a great time making the level and apparently a lot of people like the screen so we here at purple face games nominate the Sewer screen shot as the Picture of the week!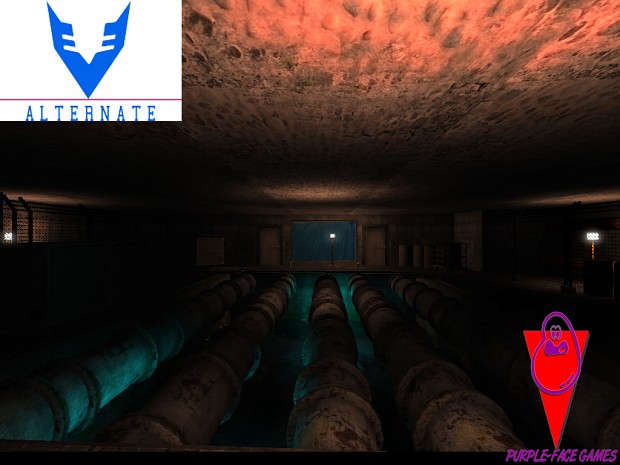 So thats what picture of the week looks like?
Well done to forum member illmatic for having the deciding vote on the screenshot.
We would like to finish this article with some more thank you's and such. We would like to thank the people who track Alternate on here because without you people who track the game, then we would not have much in the way to show regarding interest in our product, other than views.
Thank you once again
Tallyho!
Luis "Killah k2" Samways