We know you're very much interested in what fire looks like; we're still working on the effects a little and want to show you something very much representative of what you'll get to see. The below shows the destructive capabilities of fire left unchecked - including a hapless builder caught in the blaze (seen burning to the bottom left of the second frame).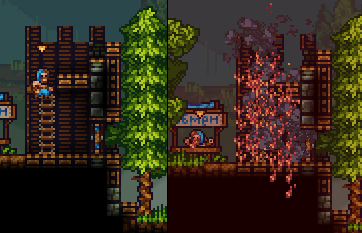 The fire spreads over time to flammable things, and can be put out with buckets of water - if you get there in time. Fireproofing structures is much advised, with regular stone sections separating each wooden section.Of course, it is much easier to gather wood… so you can trust that your enemies will slip up sooner or later :)
And last but not least a video in which you can see (some) fire. More later!
Footage from the upcoming beta showing various old and new combat moves + bomb and satchel burning stuff… Fire arrows are left out cause aren't done yet.
Check back soon and don't forget to track this game!