Hey guys,
Lots of quick updates coming in! I'm working on improving the game for new players -- I agree that 3089 has a tough learning curve and the game is a bit difficult, so I'm taking steps to resolve that. Now, players can start with pre-defined skill point assignments for common playstyles, like gunners & ninjas. This will allow players to get right into the action without having to worry about which skills should go where -- if you want to shoot guns, pick the "Gunner" class, for example. Of course, you can still choose the "Custom" option to start with 12 available skill points (up from 10). I've also reorganized the "Quick Tips" section and stressed how important it is to just spend a few seconds reading these points over -- we need to make sure players know red guys are friendly and there is a "Run" key! :-)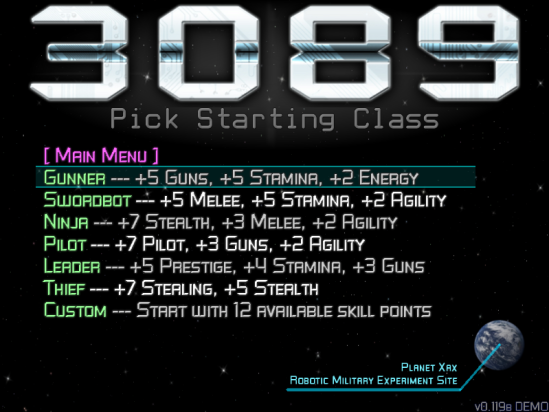 I've also fixed a few bugs, like the automatic BMT Micro updating buttons not working correctly. Check out all the changes on the version history!
Also, big news with 3079 getting greenlit on Steam -- now it is time to get 3089 on Steam!
OK, back to work!
- Phr00t