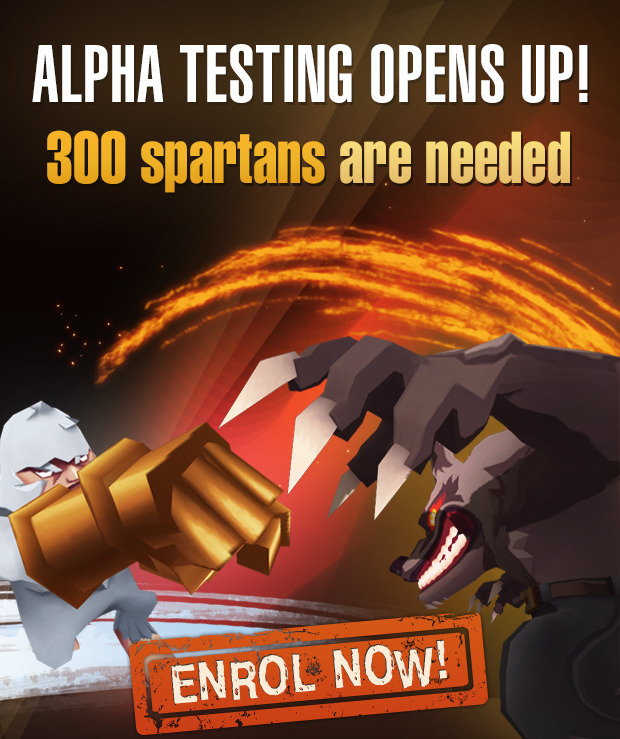 Help us make this game epic!

Dear Backers!Great news for those who have been coveting to get their hands on Fright Fight and see its awesome 3D characters, gesture controls, and RPG elements in action. Today we announce an early alpha gameplay testing of the Fright Fight iOS version made available exclusively to our Kickstarter Backers. A playable build will arrive within the next several days! So prepare to act and provide your thoughts, ideas and feedback.The current version is not intended for debugging or QA. It's all about having fun and sharing impressions of the early playable build of the game.

We need 300 Spartans! We need YOU!
You know we haven't introduced the AI bot into the game yet -- it is part of our Kickstarter Base Goal effort. That's why we need at least 300 most eager and adventurous of you guys who wish to play Fright Fight -- right here, right now! This number of fighters will enable you to enjoy multiplayer sessions on more or less continuous basis instead of tiresome lonely jumping across the arenas waiting for opponents.

Becoming a Spartan: 5 easy steps

1. Become a Fright Fight Backer on Kickstarter. Make a pledge (could be as symbolic as $1 ;)). This will make you qualify for taking part in our alpha gameplay testing. If you're an existing Backer -- accept our huge thanks and proceed to Step 2.

2. Send us a message using the Kickstarter interface, stating you want to play alpha.Make sure you indicate your e-mail address. We'll need it to be able to send you an invitation to our TestFlight account.

3. Wait for an alpha testing launch alert. For this to happen, we'll need at least 299 other Spartans to join in. It's a multiplayer, remember? We have fans from different time zones: US, Europe, Australia, China who are unable to play 24/7 (though we would be happy if they do, heh). We'd hate to have you jump across the arenas all alone. What we really want is to help you feel the drive of the Fright Fight multiplayer! Spread the word to hasten this moment!!!Follow us on Facebook and Twitter

4. Check for updates. Accept the invitation. As soon as we get 300 'early birds' on board, we'll get the news out straight away. We'll also send you a personal e-mail invitation to join our test account. Click on the link provided in the e-mail and follow the very simple instructions.

5. Download and Play! After you log into the test account, you'll see the Fright Fight install icon. Just like you'd normally do in the App Store, simply click it to download and install the game. That's it. Play with your hometown friends or with the guys from the other part of the world. And remember to share your impressions and ideas, report where the things went wrong and what you enjoyed the most.


IMPORTANT DISCLAIMER
We want to clearly state here that this is not even a beta version. It is a playable alpha build that is provided 'as is' and you will use it at your own risk. We're not supporting it and we cannot take any obligation to fix a reported bug (but of course we'll be fixing everything in the next versions) or apply your suggestions for improvements.

Kickstarter, make it happen!