Welcome to the Boss 101 Update

Polish and cleanup. That has been an ongoing theme for the last few weeks and will continue to be one for the foreseeable future. You see, Boss 101 could be done and wrapped up in a few weeks. It COULD be in your hands sooner than later. The only problem we have with that is the game would not be our best effort and that is not acceptable.

UI touchups

Something important we are working at the moment is making certain the UI is understandable and readable. The way we are doing this is, well, playing the game and having others play the game. You might image how easy is it to make a game and get used to the controls you install. After working on a game for over two years it is easy to think "Oh, this little control makes enough sense! Sure, it's a little odd and I have NEVER seen anything like it before but PLAYERS WILL GET IT!"

Well, I have news, they probably won't get it. It's actually very likely they will not understand any scheme which deviates to far from logic of the norm of game controls. In those situations it requires a dedicated team to address the issues and correct the little weird things. I can't say everything we ever did will be perfect but I can assure you we thought of YOU at all times. We looked at our game and asked "will someone who has never seen the game understand this in context?" We put ourselves in your place as much as we possibly can. It's really the only way.

Let's look at some of the things happening this week…

Rob's Store

Here we have an update to Rob's special store. In it you can find all sorts of odd guns and hats. We'll talk more about how you access it but in the meantime let's look at the design of the place.

First we have the current store. Pretty nice and there is a neat look happening. In a lot of ways there is nothing wrong with it on a purely aesthetic level.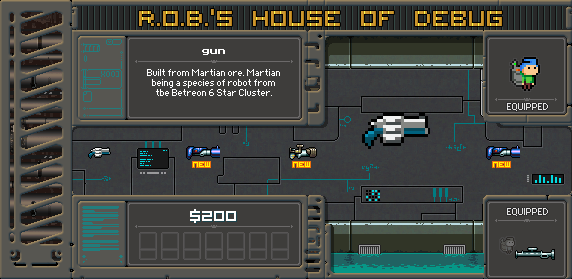 Here is the remodel work in progress. We added space for UI elements that clearly explain what you are doing and show the controls a lot better. We also lightened up the area so you can see the products better. This is a great example of taking something that was working and simply making it better for the player. We could have shipped with the old one and players would have figured things out (we hope) but when we played the game it was pretty obvious clarity would help.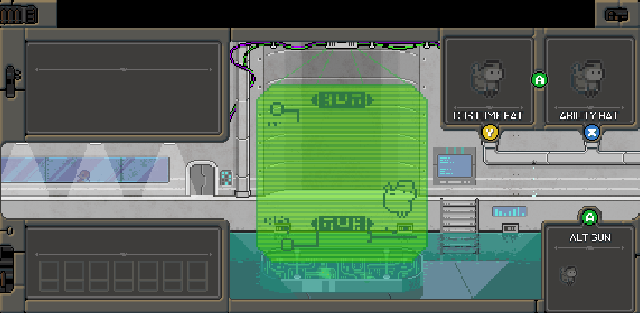 Something to remember is a lot of times you can get caught up in what looks good versus what works well. UI needs to work well first and foremost. The looking good will mostly be a function of the efficiency and thematic clarity you create (ie – form follows function)

Help Panels

We added little help panel overlays to all of the main Command Center pages. The idea is to give you an easy assist if you are still learning the ropes or need a refresher. Also – we didn't want to intrude on your game so we made the overlay and activates as innocuous as possible.

Command Center

With help on and off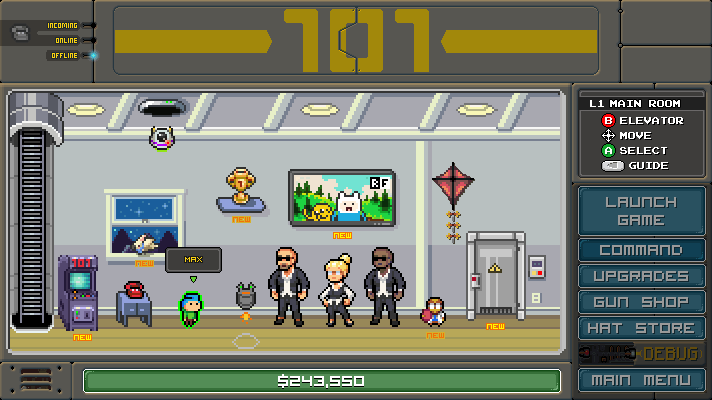 Upgrade Room

Help on and off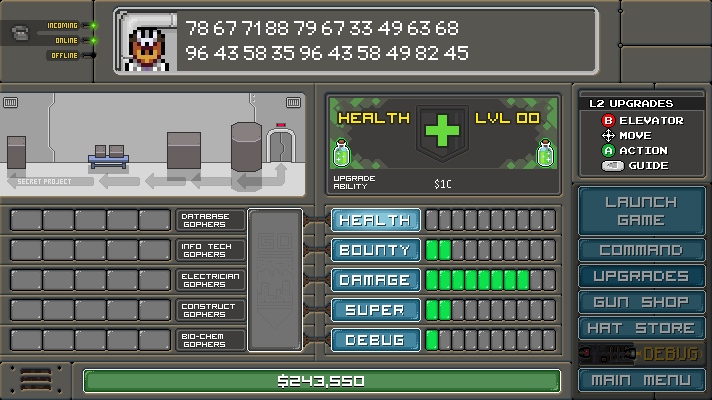 Gun Shop

Help on and off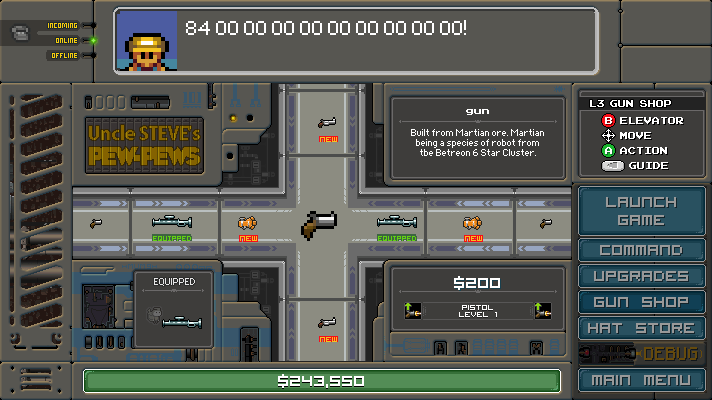 There you go! A quick snapshot of this week's work and much more to come. The goal of our development at this point is the same as always – give YOU the best game we can. You deserve it and we aim to deliver.
Boss 101 Screenshot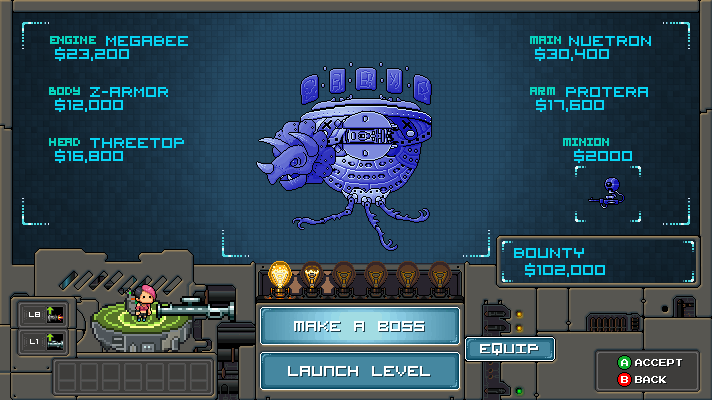 Rolling bosses in the Make a Boss! Just another day making the universe safe for you and me.

Thanks again and always remember to LIVE YOUR DREAMS!!!

-Tim

Please put Boss 101 on your Steam Wishlist us if you would be so kind - Thank you!

Store.steampowered.com