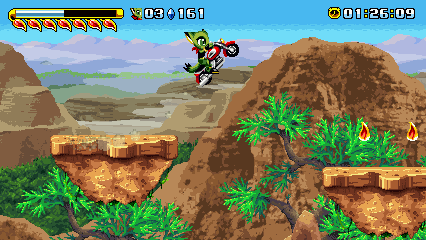 While there is no new content, you'll now be able to enjoy the upgraded graphics along with some gameplay tweaks that make your special abilities less tedious and more fun.
The Rundown
Gorgeous pixel art, courtesy of Matwek and

Carl Douglas

(a.k.a. Argyle)

.

Widescreen!

Lilac's energy meter now rapidly regenerates on its own - no running necessary! This means that her Dragon Boost and Dragon Cyclone abilities are now an integral part of her moveset instead of just a side attraction.

Carol's bike gets an upgrade too; Not only is it more durable, but she can use her Wild Kick while still riding it as well as a Nitro Boost and double-jump to make up for the extra weight.
Mac Incoming
We are also happy to announce that Mac users will soon be able to play as well; Sometime over the next few days we'll have our first Mac demo ready! Once we do, we'll need your help making sure that everything translates okay onto the new OS.
Greenlight Quest
Last but not least, we'd love it if you could vote for us on Steam Greenlight if you haven't done so already! We're so close to making the Top 100, we can almost taste it!