Beloved Woolfe fans!

For the past few months, we've been working like crazy. Last week, we took a little summer break and now it's full speed ahead again. First off, we have some exciting news to share with you… (drumroll!): Just minutes ago, we launched a Kickstarter Campaign! And of course we wanted you to be among the first to know about that.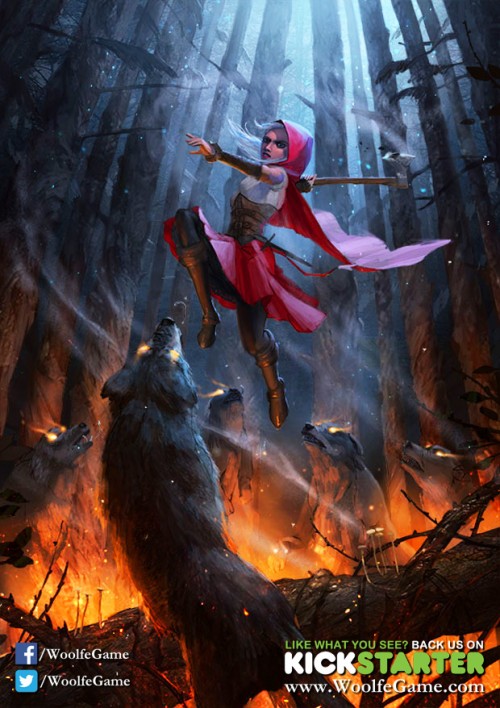 Why Kickstarter?
As you might recall from previous communications, we were granted funding to finish all three chapters of Woolfe: The Red Hood Diaries in their basic form. Meaning: we will be able to release the full game regardless what happens on Kickstarter, but…due to budget limitations we had to cut quite a few cool features. We'd love to get them back in there, which is why we turned to crowdfunding.
Cool features?
We're trying to collect $50,000 with our Kickstarter campaign. Money we intend to spend on the following:
MAGIC

: Like any fairy tale, Woolfe still needs some magic… Magic powers to help our heroine overcome obstacles and opponents (invisibility, teleportation etc), and a shot of magic to inject into the environment and the story.

USER CREATED WOOLFE ARMY

: We're working on an online toy soldier editor, which will allow every single Kickstarter backer to create their own enemy, with specific looks and skills. Fight your own customized opponent in the game as you step into the boots of Red Riding Hood.

OVERALL QUALITY UPGRADE

: There's two things in particular we'd love to take to the next level: the combat, as it is not quite up to par with how we envision it could be. And the animations, for which we'd love to have a professional join our team.
We hope you'll consider supporting our Kickstarter campaign, be it by backing us or by spreading the word. We want to make this game as amazing as we envision it, but we really need your help to make that happen!