Since we got our loan to continue development, the last few months we've been creating levels, puzzles and boss-fights at a steady pace. The gameplay is really starting to take shape and we're loving every minute of it!
But as you know we had to make some compromises and cut some features, because even with the loan our budget is quite limited. One of the features we cut was: MAGIC. The more we are progressing with our development, the more we feel that every fairy tale needs a touch of magic.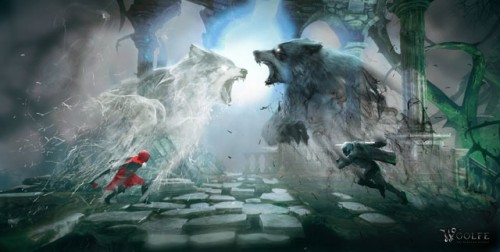 Imagine invisibility, teleportation and magical attacks.
We've been looking for a way to integrate magic without compromising the overall quality of the game. Unfortunately, we have not found a way to do this without calling on you! So as many of you proposed on our Steam Greenlight Discussions, we're turning to Kickstarter so that you can help us reach that next level.
Kickstarter
Today we are proud to announce that our Kickstarter campaign has been approved!
We're launching the campaign this Tuesday, 5th of August.
Why not add something extra?
So we finally cut the rope on going for Kickstarter… But, we wanted to do something special for our you, our fans, who have been encouraging us the last to put quality first! We think we found something really neat for you. We found a way that every single backer of Woolfe can actually be in the game. It might seem a bit strange, but it's also kinda cool…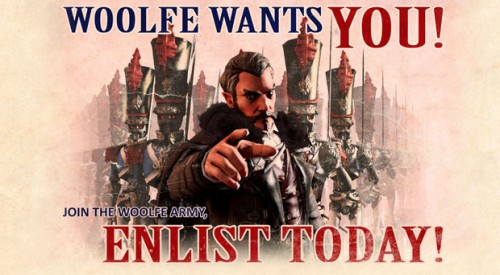 We want you to help us build the Woolfe army!
As you've seen in our trailers, there are quite a few Toy Soldiers running around. At the moment, they are all quite generic, they all share the same characteristics and skills. We want to change that by giving every backer their own Toy Soldier to upgrade and improve.
Does that mean: "The better I upgrade my soldier, the harder the game will get?"
- YES, that's the strange element. The cool thing is that every Toy Soldier will be unique and handmade by you, one of our backers!
More information on which features/skill will be upgradable and how it will all work will be made available soon too.
That's it for now… We hope you like it.
If you do, please help us spread the word!
Like us on Facebook: www.facebook.com/WoolfeGame
ps. Drop any questions, comments or suggestions here or on our Steam Kickstarter Discussion forum, this makes it easier for us to reply. As always we'll try to answer as soon as we can!