Wauw. Jaw. Drops.
In just over 3 days, you helped us get halfway our $50,000 goal. Words cannot express our appreciation for this heartwarming and massive support. At the current backing pace, it's quite hard not to start feeling confident that we will in fact reach our target. But, as you all know: with Kickstarter, it's all or nothing. So we're not popping any bottles yet.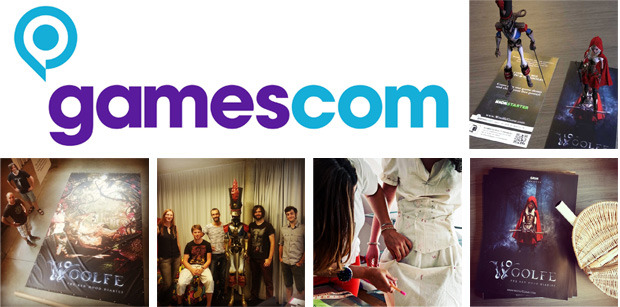 As you might have heard, next week is the first time we'll be showing off some of our game's demo levels to the world... So Excited! We're going to Gamescom in Cologne/Germany. Maybe the largest game show in the World?
We'll have 3 stations with playable demos, Augmented Reality Woolfe flyers, Free Posters, a photobooth, our life size TOY SOLDIER and our concept art intern Lieze is joining us again to Cosplay as Red Riding Hood... We're also planning to give away some beta-keys so if you're a fan... Visit our booth & play Woolfe - The Red Hood Diaries
Find us in HALL: 10.1 / Isle: B / Stand: 016 (the same hall the Indie Megabooth is located in)
DRM-FREE?
We've been getting quite a lot of requests for a DRM-free (offline) version of Woolfe.
At the moment we are using the Steam cloud and back-end for save-games, achievements and un-lockables. It will take some extra work to add these features to the DRM free version, but we figured it's worth the effort. Also, we already got a mail from GOG that they would love to include Woolfe to their portfolio of games so how could we resist! So... DRM-FREE CONFIRMED !
GOOD GUY ADD-ON: Second game for just $9.00
Due to popular request we've added our first add-on... If you add $9.00 to your current pledge, you get a second game-key (digital download) to give to a friend! Heck, you can even get 2 extra games (Just add 2 x $9.00)
WARNING: There is a cap... Kickstarter only allows a maximum of 10 items to be given per backer, so... if you back more, we'll consider this a donation to the cause!
First sticker preview
We also have a small preview of some sticker tests for the $20/$25 pledge. In total we'll have 5 different stickers in the package for you... more previews coming up!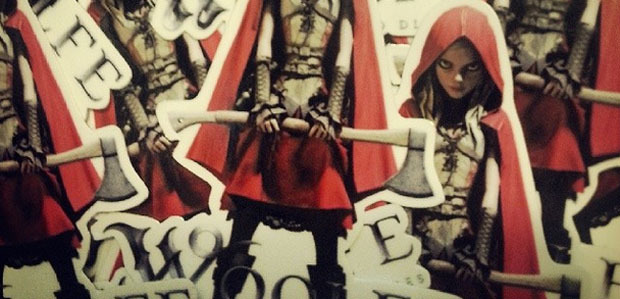 Also, feel free to tell your friends about Woolfe and our Kickstarter campaign: they might like to chip in too and help us make Woolfe as wonderful and entertaining as we possibly can.
Let's go for the HOME RUN!!!