Untitled (yes Untitled as a title, and not as in no title) is a game that I feel very strongly about, it works towards ideas and concepts that I have been wanting to bring into game format for years, but had no idea were to start. The original Prototype was made for Ludum Dare #21, although it wasn't perfect, or particularly polished it made me think about what a Abstract Game needs to function.
To me the requirement for something to be considered a game is really simple. It needs to have a goal, a reason to play. There are many different approaches usable for a goal, story is the most common one. Score is a goal that has been used repeatably in the past (Pac-man, Tetris, and Joust for example) I decided to make the goal of my game score.
I have been studying Fine Art for three years now, and I cannot think of doing anything else. I have also enjoyed making custom maps for a number of games, and designing my own small games. As a Fine Artist the works I create on paper tend to be Abstract, or symbolic. I feel that creating paintings and prints based on realism is a waste of time (though I have nothing but respect for those that do) The reason it is a waste of time to work in a realist manner is the fact that we live in the real world, we can go out and see the landscapes, rather than looking at a painting, and if not we can always find a picture of them.
An Example of one of my monotypes (a Printmaking process), that inspired the creation of an Abstract Platformer.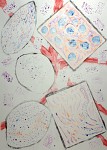 The other concept that inspired this game is based on the fact that there are many Abstract paintings that pull people in, and they could look at the painting for hours at a time. I have always wondered what goes through their mind while viewing the works. My takes on it, from experience has been the need to take in the small details of an Abstract painting, and attempt to make sense of what the artist did particular things for. Why did they put that one color were they did? Why did they use a door to paint on? Why is there a paper towel stuck to the painting?
In Untitled the "story" is that you have been sucked into viewing an abstract painting, and to escape from the painting you need to reach the bottom and fall outside of the painting.
That is all for this introduction/Inspiration journal to the game that is Untitled. Watch this page to see additional journals in the weeks to come that will detail the creation process of specific system, such as the Scoring system, controls, highscore table, and any other details I find interesting.