Project StarDiver
----------------------

Many indie developers start projects with grandiose dreams of how awesome it will be to make the game they have rolling around in their imagination, and how perfect the result will be. It usually isn't long into the project before the grandiose dreams present some hefty technical challenges. One of those challenges for our project was to populate our universe with a wide range of interesting and lively alien races. Our rather large goal... 20-30 alien races that all are unique and play their part in a grand story arc of epic proportions. Story telling in StarDiver will largely be accomplished through conversations with these aliens. A simple icon sized still image of an alien with an old-school chat-box like classic rpgs just isn't enough to bring them to life. We wanted the feel of the classics like Starflight, starcontrol, and newer epic games like mass effect. The aliens need to move, have character, enhanced their back story, and come to life in the conversations.
Here is where the technical hurdle comes in. We are a small few person team without previous experience with such grandiose goals. So we looked at various avenues to achieve our target. 3D modeling was out, as the time and effort to model and animate 20-30 aliens to the level we wanted would be a task for a much larger and more experienced team. I had seen a number of games use 2D skeletal animation and even some new tools like Spriter for helping artists bring their creations to life. The fit seemed doable... with an uphill learning curve to make it happen.
We tried for months with limited success getting from pencil sketches, to digital colorings, to body-part layers ready for animation. Our shortcomings lead to the best decision we have made yet. We brought in an excellent concept artist and illustrator to take our alien designs and render them in a style that meshes with our in-game 2.5d engine. Now we had solid art made in the needed layers to cutup and animate.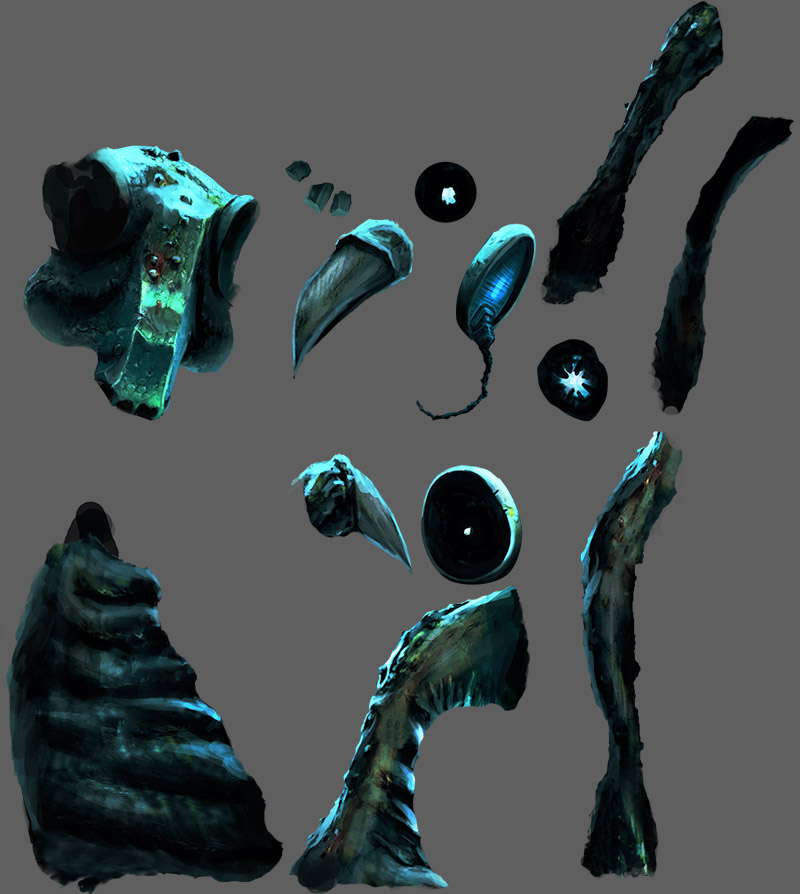 Next we tried a number of tools for the animation, and settled with a nice method inside of Unity itself, our game engine of choice for the project. So far we have made the idle animations for a handful of our alien races and are very pleased with the results. It has proven that we can get the large scale, animated bridge and alien scenes to come to life with a mix of 2d skeletal animation, 3D particle systems, and fullscene shaders. We are excited to share the results with the indie dev and gamer community.
The next simple sounding but not-so-simple hurdle to overcome? Voice acting. The only thing worse than no voice-acting is terrible voice-acting. Hmmm.... it may be time to find some professional help. I suspect the few of us on this tiny team may lack voice talent. Cross your fingers.... here we go...