Hello and welcome to StarMade,
Planet Types in the Game
There is going to be an infinite amount of planets in the StarMade Universe. Every planet will be unique in its shape and properties. You can find many different types and mixtures of planets: Green grass hills, vast mars deserts, hot lava, and many more. Not only the look of types will be very different, also the types of materials you'll find depends on the planet type.
What can you do with Planets?
You can basically do anything you like with planets. Build a nice cozy home, a station, planetary defenses... there is no limit. You can also just mine planets, harvesting its valuable resources, or, if the dark side is strong with you, nuke them into pieces.
What you can do with all these resources will be revealed soon.
Planets are going to be visible from far far away: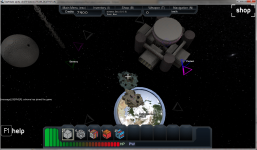 An earth like planet: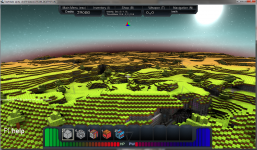 Thanks for playing StarMade!
- schema