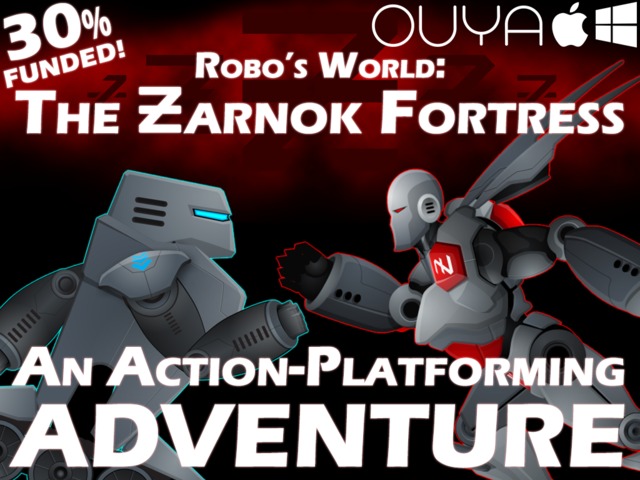 Robo's World: The Zarnok Fortress
A 2D action platformer set aboard a massive starship that is bent on the destruction of your home-world.

The Kickstarter is live now, and runs until August 9th.

The game will be made for Mac, PC and OUYA and is set to release July 2015. If you're interested, here's a quick run down of the game-play;
Race against the clock: Destroy the Fortress before it reaches your home planet!
Action-heavy, Stealth elements: Avoid setting off the alarm or be prepared to blast apart all the reinforcements coming your way
Action, Reaction: Destroy parts of the ship and your actions will have real consequences on game-play, like taking out the Ship's engines to slow it down.
Risk-Reward Efficiency: Zarnok Robots will repair the ship as you sabotage it piece by piece, be quick to destroy them all, or plant explosives to take them all out at once, without receiving the benefit of destroying that ship segment.
Volatile Arsenal: Blast enemies apart with Lasers and Magnetic Grenades to rank up, unlocking new powers and abilities
Enemies get more intelligent as you play, giving familiar encounters a fresh challenge
Variable difficulty: The physical layout of the game changes, used for meta-game scoring.
For even more information about the game and to get an early copy or other cool rewards; you can check out the Kickstarter page at;
(redirects to the Campaign page).
Thank you for your time, I hope you're as excited about this game as I am!