Really embarrassed about the lack of information about what's been going on with the game and I'm like a broken record with the same excuse every time, but doing freelance web development work to cover my living expenses and taking care of everything related to the game on my own has been quite taxing and a huge energy drain. It's still been touching to see more and more people take interest for the game despite that and I'm very thankful for the support!
The biggest news is that Office Management 101 unceremoniously entered the first testing phase a few days ago, when I gave out an early prototype pre-alpha build to some friends. They have already provided me with great feedback and this has definitely inspired me to keep working harder! I opened up a forum to house the testing related discussion and figured I might as well start accepting applications for more testers for the next pre-alpha build. If you think you can help me out by giving your input, then you're very welcome to apply as well. I have to warn though, that the current builds are buggy, unbalanced, clunky and lacking several key features, so if you're hoping for a more solid game experience, it'd be best to wait for the public alpha release instead.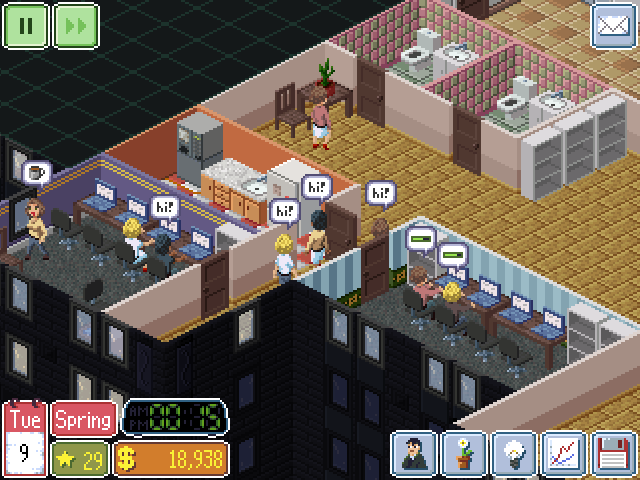 Another big news is that me and my brother made the whole game development official and started our own company by the name of Osaühing tulevik.EU (tulevik.EU Ltd. in English), where I was also appointed as the CEO. Of course this only adds more work to my already busy schedule, but it's still an exciting step forward and something I've dreamed of for a long time.
Last time I mentioned I want to start working on a trailer, but I pushed that back a bit since I figured working on the core functionality of the game is more important for now. It's still something that I want to in the near future, but we'll see.
For the immediate future I'm still going to have to share my time between making the game and freelance work, but if things work out, I'll be able to concentrate on Office Management 101 full time at some point. Hopefully you can hold on until then and give your moral support nonetheless.
For any questions, suggestions or critique you can contact me via twitter, send me an email (riho@tulevik.eu), post on the forum or just leave a comment here.


Forum | @tulevik.EU | Facebook | officemanagement101.com | DevLog on TIGForums