The Noir Syndrome Beta has just been released! Check out the trailer below and read on for more info on how to get in on the action!
Noir Syndrome has come a long way since it's initial announcement almost half a year ago. I've worked mainly alone on the game for the entirety of development. Luckily, I received great moral support from a number of people and fans over the past few months. Eventually, I was able to get in touch with Bombadeer Studios to produce both an excellent soundtrack and a killer set of sound effects. If you're wondering who worked on this game, here's a little credits image to clear things up.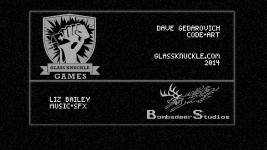 IndieDB has provided a great community so far. I'm very thankful for all of the views and positive support I've gained through this site. Therefore, I want to give back to the community by providing users access to the exclusive beta.
If you want to be a part of the beta, just leave a comment here or send me a direct message. I'll get back to you with details on where to get it. The beta is staying exclusive for a few reasons, but one of the major points is that I want to include a short survey with the game. Feedback helps me improve and provide a better game overall. Together we can make sure this game is perfect for release. If you get your hands on a beta copy, you should be greeted with a title screen that looks like the one below.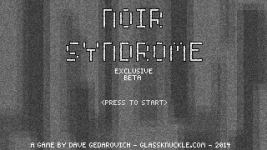 So, basically, just contact me! I'll hook you up with a copy and then I can get ready for all kinds of feedback. Thanks again, IndieDB!
Also be sure to check us out on our:
Twitter | Facebook | Website | IndieDB Group