*** This is one of the very important update recently happened
*** For the Sunday, 300% very special bonus event started. Both Gold and EXP
*** Battle animation can be turned off/on from control panel. Now it is remembered
*** Now you can click your username at right top to go your control panel
*** First few maps now have arrow images embedded to show exits and entrance to the monster center, shop or caves
*** Pathfinding feature implemented to the game
---- Pathfinding or pathing is the plotting, by a computer application, of the shortest route between two points. It is a more practical variant on solving mazes. This field of research is based heavily on Dijkstra's algorithm for finding the shortest path on a weighted graph.
---- In our game pathfinding works as to show you shortest path to the exits. In short a path to the route changing locations.
---- Pathfinding normally very hardware power consuming stuff but we are doing preprocessing to make it lightning fast.
---- Preprocessing still continues so pathfinding is supported to maps between 1-220. But in couple of days hopefully it will be supported at all of the maps.
---- Pathfinding can be turned off/on from control panel
---- Here pathfinding image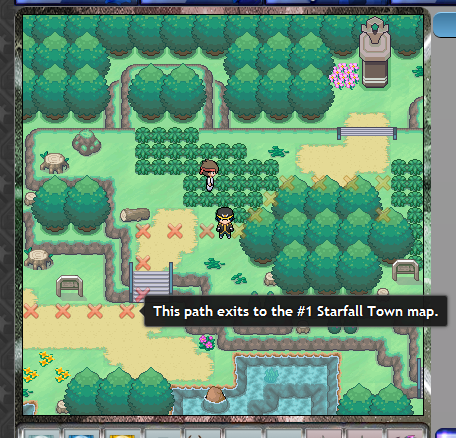 *** Players starting positions to the game at the first map greatly randomized. So they won't compose a crowd at the front of monster center
*** Individual donation page added to the game. In order to view that page you need to login and have more than 5 monsters total
*** 7 Monster images completely revamped. Henrie is back ^^ (If you are still seeing old images please hit F5 or refresh the page)
*** All monsters on maps re-assigned
*** All NPCs and their monsters re-assigned