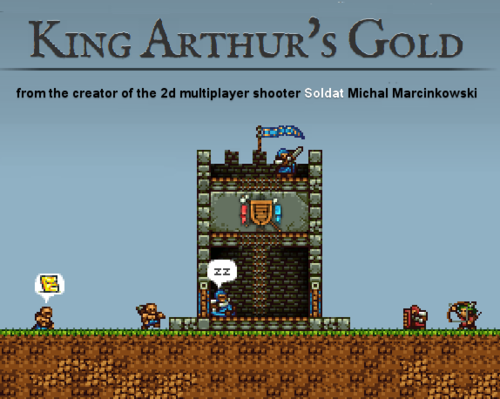 What is King Arthur's Gold?
KAG is a game about mining, building castles and destroying your enemies. It is a side-scrolling 2D action multiplayer war game with focus on building, constructing siege machines and intense PvP combat. Some inspirations for the game are Soldat, Minecraft, Dungeon Keeper & Ace of Spades. Currently available on Windows, Linux & soon MacOSX.

Who made it?
KAG was coded and designed by Michal 'MM' Marcinkowski creator of the online 2D action classic Soldat. Co-designing and painting all the pixel graphics is Max 'Geti' Cahill from 1bardesign.com games. Music is being composed by David Pencil composer of Penny Arcade. Community forums are being maintained by Samuel 'citricsquid' Ryan of Minecraft Forums.
What can I do in this game?
There are 2 teams in KAG (red vs blue). Both struggle to dominate the other on giant randomly generated 2D maps. Nobody remembers why the war started, but the battle is ferocious and never ending!
KAG is a Player vs Player game in which you can pick one of 3 classes.

KAG is the first 2D game to introduce classic arcade game mechanics in a real-time 64+ player battlefield.

The
Knight
is a hero equipped with a sword and shield, and a little too much courage.
The sword allows for quick jabs or massive slashes + combo hits
The shield is used to block enemy strikes and allows knights to give other players
a helping hand up ledges.

The
Arche
r is a swift medieval ninja armed with a bow, quiver full of arrows and a quick wit...
He can hide in grass and behind bodies allowing for deadly ambushes, and can climb walls by stepping on his arrows!

Builder
constructs castle defences and traps.
This includes retracting from enemy
bridges, spike traps
and dropping huge castle blocks.

Build
outposts
which allow team mates to spawn farther into the battlefield (you need to defend them as well, because they can be captured!)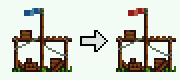 Storm the castle with a catapult! Load it with rocks and destroy the enemy walls!


EVERYTHING in KAG is destructible.
Not only that, but blocks support each other!
Destroying the foundation of a castle will make it collapse in full 2D collapsible physics glory!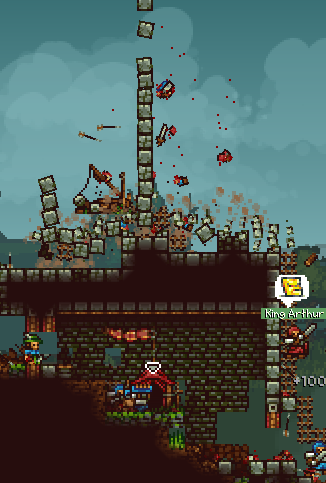 The current default game mode is
Capture the Flag
.
This means the objective is to breach the enemy castle and take their flag.

King Arthur's Gold is available for free so what are you waiting for?
Grab your sword, hammer or bow and head on into the battlefield.
How fast can you say CASTLE SIEGE!?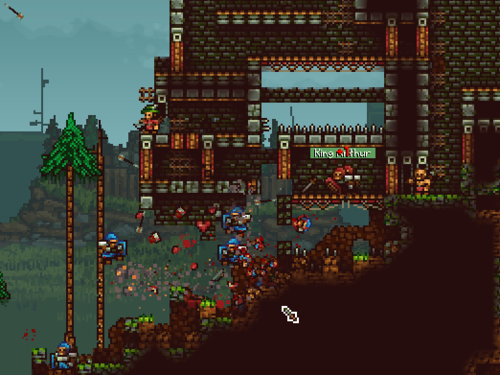 What is coming next?
KAG is a work-in-progress, currently released as alpha version.
Some of the planned things in the free version are:
New game modes:
Team Deathmatch

- Quick, to the point combat without any extra objectives.




Creative Mode

- For all those Minecrafters out there that want to construct castles in a peaceful environment.




Tutorial / Challenges

- Mini games that allow you to practice your sword or archery skills by shooting at apples, trees, ducks or bison, as well as helping new players find their feet in-game.
New constructions:
Giant Boulder - did you watch Indiana Jones? You will be able to make a giant boulder to crush your foes
Bomb Workshop - a castle room that allows the construction of bombs.
Quarters - castle room used for spawning and healing.
New contraption and room construction mechanics.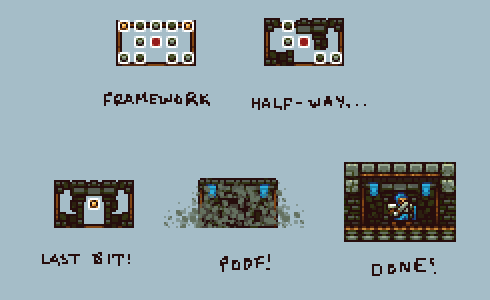 Modifications to how the current castles function as well as Wooden buildings!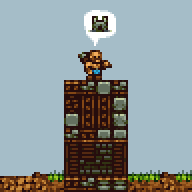 New semi-procedural epic soundtrack by David Pencil (composer of Penny Arcade)
GUI improvements including a better server browser


Did we mention BISON?
Now...
What is the full version of KAG?
What you just read about is all FREE. However that is just a really small part of what KAG is going to be.
Just check this chart:
How does the free version differ from the full version?
Even more game modes!



WAR

Each team has a small wooden castle consisting of a spawn point "hall" room on start. Over the course of the game teams construct forts and outposts and push forwards to raid each other's constructions. If all of one team's spawn points have been destroyed and all team's players are killed the attacking team wins.

NOTE: This game will represent a culmination of a lot of other work, as it'll introduce RTS elements. Mainly rooms, a complex inventory system, and many more items.



ZOMBIES

(can be played in single player mode)

One survivor or team builds a fort for the upcoming Army of the Dead invasion. The goal is to survive as long as possible. Continually repair defenses and fight the undead!



"Mongolian Horde"


A spin on the survival mode where the attacking team has more advanced AI and uses the player classes. They'll be able to find paths, dig, use archers and lay siege to your castle in a more articulate way.
Now, let's break down WAR mode because we feel that this is the most valuable part of paid KAG:
Day/Night cycle

- There will be time and a time limit in the game. It will be indicated by the change of lighting in the game. Battles at sun dawn or at night with full starry night are coming. This won't be just a gimmick because fighting at night will add fog of war allowing for sneak attacks under cover.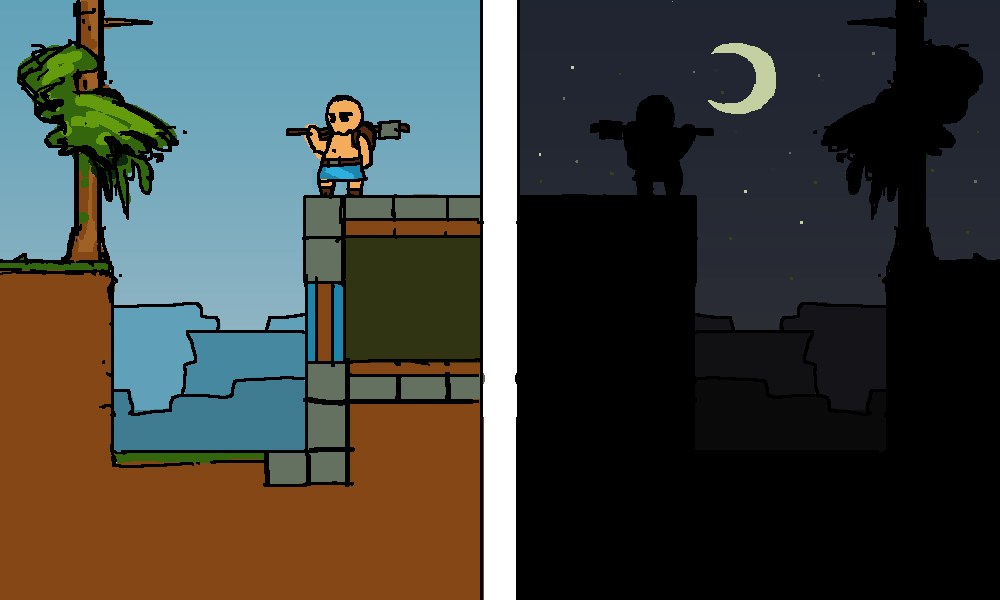 Siege Towers:


Siege Workshop

- allow the construction of movable classic medieval siege machines, including

Battering Ram, Canopy and Ballista!
Upgrade Bomb Workshop to Demolition Workshop to build Powder Kegs for massive wall destruction!

Items and Workshops

- Construct chests which can store larger quantities of materials
- Food: Roast Meat and Turnip, Bread, Boiled eggs, Cakes, Soups, Potions...
- Create bowls for food & potion making, boulder, statue and a vases for ornamentation


What you see on the picture above and additionally:
Rabbits - fast; must be hunted down by archer
Firefly - lights up dark caves
Single-player challenges

Custom maps and campaigns for offline play.
Gold Servers Access - gold servers are servers that only allow full version players to play. This means more friendly, more cooperative and griefer free games.
Avatar customization - heads, hats and haircuts!
this will affect both in game appearance and potentially appearance in the chat presentation:

Multiplayer Map Editor - that's right. One of the very few in existence real-time, multiplayer map editors. This means you can edit maps in collaborative mode with friends.
Honorable community membership - all full version players names are yellow and have a star next to their name on every server (free & full) on the scoreboard
Access to hidden section of Official KAG Forums
SNES mode! - turn your hardware into an old NTSC TV and a Super Nintendo. Also with 8-bit sounds!
Most importantly

, you'll be supporting independent game development and ensuring we get some return for our work, so you can sleep easy ;)
Gold Servers, Multiplayer Map Editor and community membership are already done and once you pre-order you can use them straight away! All other things are to be done soon.
Please note that this is not a sales offer nor a concrete TODO list. It is what we are planning to introduce in the game and most likely will, however the nature of game development means that some things might not work and not be fun. The goal of the game is to provide massive fun :) If some of these elements we listed here are not fun or break the game in some way, we will remove them and introduce new, more compatible elements. Also some elements might be moved from free to full version and vice versa as we try to balance the game to make it perfect. .
How do I get it?
Right here on Desura for the price of 2 Big Macs. Remember to make your decision now because you are getting a huge discount!
[ppbranchg15187button]
This is a special pre-order price for a limited time. We'd like to thank you for supporting us in this early stage of the game. That's why the price is so low for such enormous content and fun times you will have. As new content comes in we'll gradually increase the price to reflect the added value. In other words, get it now!