Pardon the terrible pun in the title.. I was up until 2am getting everything together for today, however as the title may have hinted at already there is big news - Isomer is now available on Steam!!!

A new build (0.8.8.1) is available today in both Steam and non-Steam flavors.
The versions are identical, however the non-Steam version will not have the additional Steam features like Achievements (and others in the future).
The focus of this build (aside from integrating Steam) has been improving combat and the AI of friendly units when under fire or in a group. Now, when a group of units is assigned a combat order, any units that don't have a line of fire will try to step into firing positions rather than just standing there as they did in previous builds.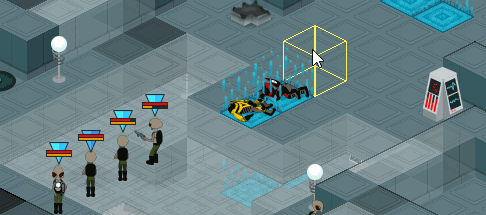 Additionally, when a friendly unit comes under fire it will now raise an alert which will cause friendly units nearby to come to their aid automatically (if they don't have any existing orders).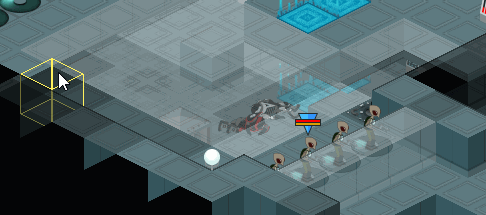 Also new in this build is the information overlay (triggered by holding the shift key) which gives information about things in the world (i.e. entities, blocks or objects).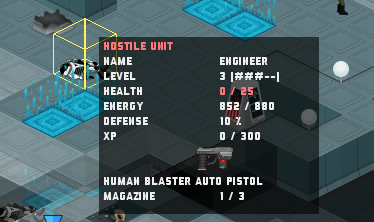 Aside from this there have been the usual collection of tweaks, bugfixes and general incremental improvements. The full changelog is below...
New: Added Steam achievements (to Steam build).
New: Added new game icon.
New: Added Steam mode to launcher (in Steam build).
New: Added polished enemy and friendly spawn point sprites.
New: Added polished menu images.
New: Added mouse context info screen triggered by shift button.
New: Added quit without saving button to in game menu.
New: Destroyed cacti can now be collected for biomass resources.
New: Added colours to entity notifications to make it easier to distinguish positive and negative events.
New: Added side step and target position finding for player controlled entities. Entities will attempt to step into a position from which they can attack a specified target and move back to their original positions afterwards.
New: Player controlled units will now raise an alarm when under attack causing nearby units to try to identify and also return fire.
Improved: Made some core stats (health, accuracy and defense) increase by set amount rather than percentage amount per level.
Improved: Updated title screen icons to use new colour scheme.
Improved: Updated game banner in launcher.
Improved: Tweaked heading colours in about screen to match new title image.
Improved: Removed greenlight banner in launcher.
Improved: Removed debugging code which should not have been left in relating to explosion diagnostics.
Improved: Improved code for game menu positioning and logic.
Improved: Improved unit selection (selecting unit from group now requires one click not two).
Improved: Half height human crates and cacti no longer block vision.
Improved: Improved weapon reloading.
Improved: Improved / sped up decision making cycles for entities.
Improved: Added new prefabs and improved existing ones.
Improved: If the player mines a block with an alarm sensor pad it will triger the base alarm.
Bugfix: Fixed bug where enemy Heavies and Engineers would not start with full health if they were not level 1.
Bugfix: Fixed bug with PowerCore integrity function returning 100% after power core was destroyed.
Bugfix: Fixed bug where particle engine would tick even when the game was paused.
To get the latest build update (for non Steam builds) use the Isomer launcher as usual, Steam will automatically update to the latest version.