In order to help people understand the game better we are going to introduce a new character in each of our new posts from now on.
This first post is dedicated to one of the most important creatures in your forest.
The Dot is a small egg-shaped creature that is the lowest animal in the food chain.
They are only able to eat Shrubs and reproduce soon after having their fill.
Creatures like Rex and Ellyps prey on them and they are useless in defending your forest from enemies.
They do however serve one main purpose as an abundant source of Animal Nutrients. So it is a good strategy to let them reproduce quickly then cull them in large numbers to create new more powerful creatures.
Make sure you don't cull all of them however or you will be forced to kill stronger animals to harvest Animal Nutrients!
They will ignore everything else on the map besides Shrubs so you can herd them to a specific area by culling all of the Shrubs in other areas. They will even ignore Orchards because they are too short to reach their leaves!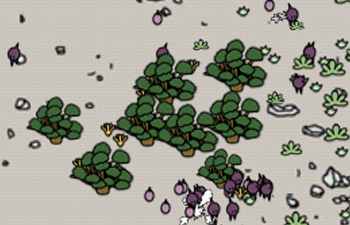 You can see here how they will often move in packs towards the nearest collection of shrubs. It is possible to use this to your advantage in many ways.