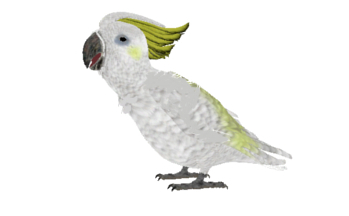 ABOUT
The most smart available animal in the full edition is this kind of parrot. The Sulphur Crested Cockatto is a relatively large white cockatoo found in wooded habitats in Australia, and New Guinea and some of the islands of Indonesia. They can be locally very numerous, leading to them sometimes being considered pests.
The special tech what we used just for this animal till now, is using a small machine learning to make it smart for talk learning from you with any language.
It reacts your actions but we're trying to make some voice learned more flexible.
---
ACTIONS
MAKE THE EYES FULL CIRCLE AND LOOKING TO SOMEWHERE
angry, better keep yourself away from it
DRIP FLARE
its body is in not normal place!
BILL RUBBING
angry
PUFFING THE WINGS
it has been cold
MOVING HEAD TO THE UP AND DOWN
happy
+ some body clearing and talking activities
---
TOOLS

BIRDSEED as feed

BIRDWATERBOWL as feed

MEALWORM as feed and entertainment