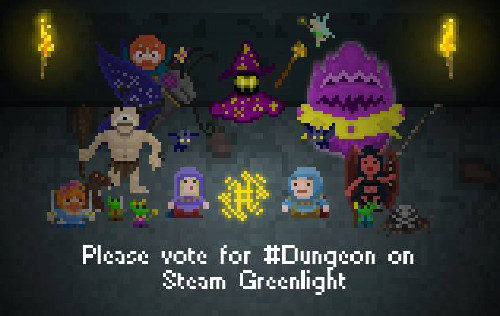 We are pleased to announce that Hashtag Dungeon is now on Steam Greenlight! If you happen to have a Steam account and want to help support us you can vote for the game here. We would really appreciate your votes and comments!
Here's a quick update as to how the game's development is going. Kieran has recently finished his final year at university and his dissertation based around the game is now finished! We are hoping to get a few academic papers out of the research we've done using the game which is really awesome. Now that he's free from university work he's back working full-steam on cleaning up the game and adding new elements before we release.
We've vastly improved the way that tweets are grabbed and processed from Twitter. Originally the player would quiz Twitter directly and parse the tweets on their own PC/Phone but now we're doing it all on a server. The time it takes to download and play dungeons now has been vastly improved - as this video shows:
Sean is programming monster AI and behaviours in his 'testing rooms' so that if he makes any stupid mistakes with his code it won't mess up the rest of the game. He's been posting up the occasional video showing off some of the new enemy behaviours on his Youtube. Here is a video of the Oculus enemy type in action, it's designed to box-in and force the player to keep moving constantly in order to avoid the nasty beam:
So yes! The game is progressing well and we're looking forward to seeing people playing it during our next testing phase. We hope that you'll vote for us on Greenlight and help make our crazy game development dreams come true!