I know that you guys are waiting to be the Guy. But wait just a little more, we are making some tweaks on the difficulty, we have created a 2d positional sound, Lucas is composing a new music to a special boss battle and Gabriel is crafting some new screens for the story.The finishing process is taking longer than expected, but we want to set every single detail in place to provide a great experience.
We will release it in July, for sure!
Stay tunned for more news!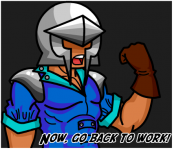 Thanks for your patience, Cog Monkeys Team