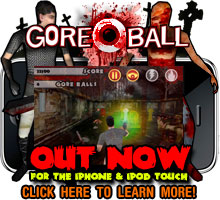 Today Apple approved our newest iOS game, Gore Ball. It is NOW AVAILABLE at the low price of $0.99. To purchase it you can CLICK HERE !
What is Gore Ball?
Well the problem is we do not know either, it is a hack n slash, action adventure, arcade, bat n ball, breakout clone type thing . . . . . with zombie gore n gibs!
Story Overview:
Hayle Galeric, a knight, returns home from the holy crusades only to find his way of life and spiritual beliefs have been turned upside down. A pure evil has swept across the land, killing Hale's wife and daughter in its wake. The people call it The Darkness as the light itself can not escape its clutches. Called upon by the Gods, Hale takes up his sword and pushes fourth to cleanse the land and restore peace to all.
Chapter One Synopsis:
In this first chapter of Hayle's Quest, The Darkness has plagued the land causing the undead to rise from their graves. Hale is charged by the Gods to destroy the cursed portals and the unholy creatures crawling from them. Playing as Hale, you're armed with a big sword and the spells bestowed upon you. See how long you can survive in this all-out gib fest!
Features:
• Bat-n-Ball gameplay with a new twist
• Fast paced slice-n-dice zombie action
• Presented in full realtime 3D
• Simple pick up & play controls
• Selectable camera views
• Random levels for unlimited gameplay
• Extensive audio for an immersive experience
• Difficulty modes, for the weak of heart and the hardcore gamer
• OpenFeint integration*
• Local & Global leaderboards*
• Unlockable achievements*
• In-game forums & chat*