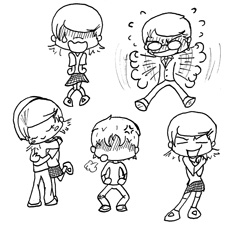 This week, America celebrates the magical day when we all gather to put differences aside and indulge far beyond our means in the spirit of American optimism: Black Friday. So, to humbly give thanks to our small but fanatical following, I'm writing this news update with absolutely no ulterior motive.
We've found an animator to make EHSC's cute characters hug (that's important to our game). His name is Thomas Lee, and his reel had just enough Pixar-ish flare to it to make him the ideal person for the job. As you can see from the emoting characters (left) his style will mesh perfectly with the comical vision of our game. His only work for EHSC worthy of display so far is a short test animation; he's been spending most of his time rigging our huge, 24-character cast!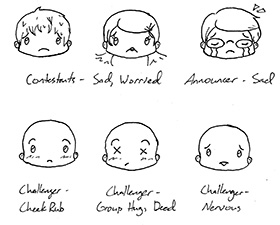 Speaking of huge tasks, Brandon will soon begin working on head textures with different facial expressions for every character. Check out the thumbnail of some concept art (right) to see what he's in for!
Our last bit of news concerns a less artistic, but no less important, facet of game design: programming. boredom's products is currently seeking a code monkey to take care of the code-grinding for Jeff, who is busy with something he calls a "real job". Jeff will remain on the roster, contributing just as much to the design of the game as before, but having someone to handle the hardcore coding would greatly expedite development. Maybe we can even give them a fancy title like "Assistant Software Developer" as incentive. That would look impressive on a resume, wouldn't it?
And, please don't forget to vote for EHSC for consideration for the IndieDB.com Game of the Year ballot. No registration is necessary, although member-votes are weighted more heavily. Thanks to everyone who votes!