For those of you who are waiting, we had to shift Greenlight for next week, the first week in Feburary. The past three days we dealt with a few big bugs which broke the whole game. At this point there is one left. It is driving me crazy, but it can be handled. Sorry!
Don't miss it, ENDCIV will be on Greenlight within next week! Here is a little preview, a showcase of the work that we have done to improve the atmosphere of the game. Tell us what you think!
We spent the recent days to deal with some more heavy bugs which dropped us a little behind. But now we fixed most of them and the version will be used to record some gameplay footage.
As you will notice one of the bigger improvements is sound. We believe it adds a lot to the feeling when you play. Another update is the user interface, notice the construction and interaction menu on the lower right corner. Also the mini map is working fine.
When we will release the game in a month then you will be able to build a simple shelter including campfire, storage and cardboard beds. This is the starting point to rest, cook food and collect resources. You will be able to find different resources such as water, food and construction material in the surroundings. This will enable your citizens to survive for a couple of days without any issue.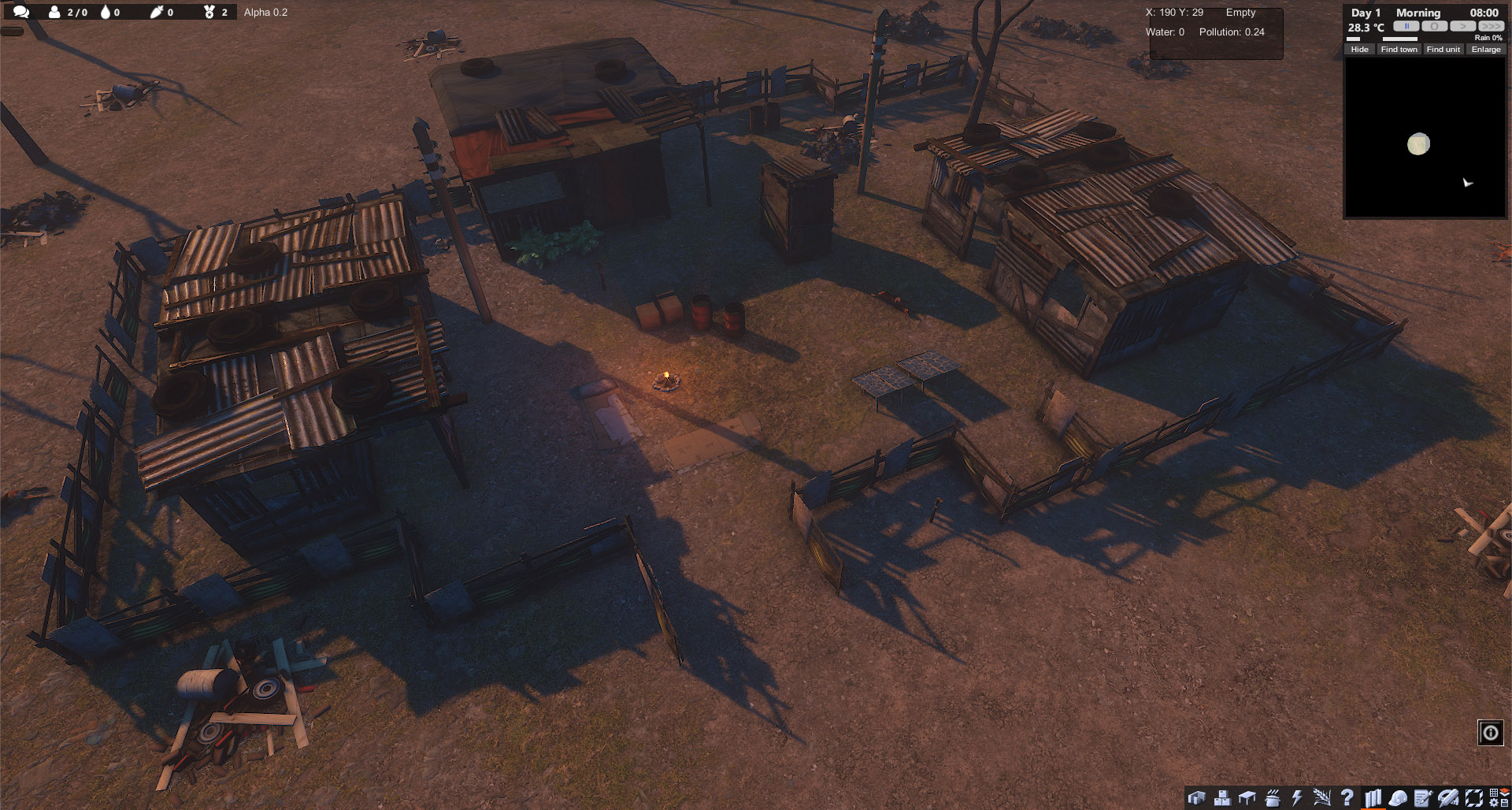 When you want to expand then you can build more objects such as a crafting table to produce tools and items. These can be used to increase productivity as well as to trade with more advanced goods and to get access to potatoes for example, which can be planted. Also once you run out of resources, trading will help you to stay alive.
It is possible to build a medium to big sized shack and to establish a small village of a few nomads. New nomads will ask to join your town and you can adopt them or deny. Keep in mind, more people require more resources.
Greenlight will start in the first week of Feburary and more info will be available then and once we are greenlit. Leave us a vote!