It has been a long time since I have released any news about Dungeon Tactics, and I am sure some of you are wondering how the project is progressing. First a little background. Dungeon Tactics was created for the Liberated Pixel Cup, an open source game development competition, where a bunch of artists create a bunch of art and then a bunch of programmers create a bunch of games with said art. I entered the LPC solo, and really enjoyed participating; I made some new friends, learned a lot about my limits as a programmer, and ultimately made an enjoyable game. Since the contest has ended I have continued development on the project, researching new ways to improve usability and gameflow while refining my code to be faster and more stable.
However, since the contest ended, very little new art has been created. I myself am a programmer, not an artist. The type of pixel character animations in Dungeon Tactics are far beyond my artistic capabilities, so as such I feel I've taken this project as far as I can by myself.
My only options at this point are to seek funding in order to hire professional artists to help me finish the game as I have envisioned it, or give up and do something else. I have thought long and hard about the viability of crowdfunding Dungeon Tactics as a commercial project, but ultimately there are a number of things that prevent that from being feasible. One reason being the permissive nature of the LPC precludes distribution through most major software channels such as Steam, or iTunes; essentially a project of that nature would have to scrap all existing art and start over from scratch.
So it seems the only thing left is to salvage what I can and start anew. As of this moment, I am officially halting development on Dungeon Tactics, forking the unreleased code for Dungeon Tactics 2.0, and focusing all my efforts into creating a new project. Instead of a high fantasy turn based strategy game where your party of fighters, mages, and rogues battles against endless waves of randomly generated monsters in dungeons, this new project is a sci-fi turn based strategy game where your fleet of starfighters, interceptors, and bombers battles against endless waves of randomly generated alien space monsters. In space.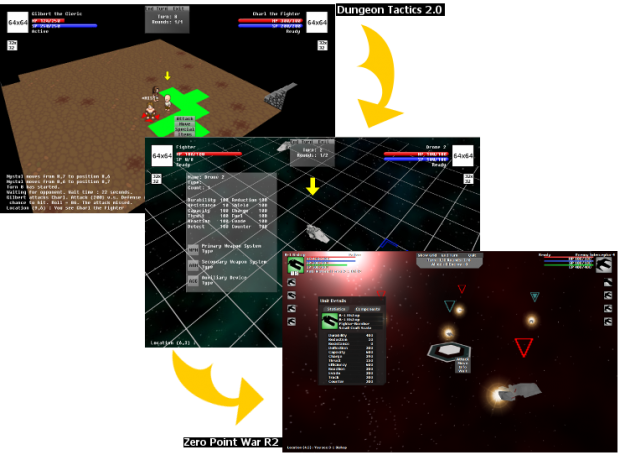 Check it out: Zero Point War. I really hope you all give it a try. Your support has been invaluable in making Dungeon Tactics, and I am super excited about the possibilities a fresh start will bring. If science fiction isn't your thing, that is cool too I guess. Someday I shall return to these dungeons to finish what I started here. Until then, good luck and have fun, with whatever you chose to do!
~xhrit