A lot has happened since the last update!
First of all, and most recently, Don't Move has been upgraded to version 1.3 all across the board. This release brings greater performance, stability, and fixes a bunch of little bugs. Also, graphical glitches which were present on some releases (Linux, Mac, and iOS specifically) have been fixed.
Next, Don't Move is now available on iOS! You can get it in the App Store, of course.

Also, the Greenlight campaign has gone very well! We're currently at nearly 85% of the way to the top 100! We could really use all of the support you can provide, so please share!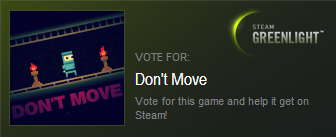 Did you know that Don't Move was in a bunch of bundles recently? We were in the Groupees Retro Bundle 3, the Lazy Guys Studio Blurred Shapes bundle, and the Indie Royale Mixer 5 bundle. If you missed these bundles, don't worry! You can get the latest news about Don't Move on Twitter. You never know where we'll pop up next! By the way, have you seen the new trailer?
There's also a Steam group if you want to chat with other fans (of course you can always do that on IndieDB), the official site has been updated, and we've been covered by Kotaku and Pocket Gamer. Whew!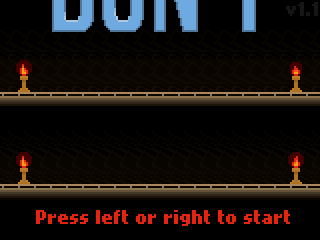 Alright, I think that's everything! It's been a busy few months. Thanks for reading, and stay tuned for news on my next big project soon!