Dirk Dashing 2: E.V.I.L Eye version 0.8 adds 7 new levels for Part 4 of the 5-part story. The new levels are available to pre-order customers as part of the full version beta, which now contains a total of 31 levels. This means that Dirk Dashing 2 is now officially larger than the first game, which only contained 30 levels. And I still have 9 levels left to build!
Part 4 is titled "The Hunt for Agent Dashing", and it picks up immediately after the cliffhanger ending in Part 3. This part of the story is more action-oriented than some of the preceding levels. Dirk has learned about E.V.I.L's plans, and they're not about to let him escape with what he knows. There are plenty of enemy agents who are after Dirk, and the new levels include lots of exciting battles, devious traps, and harrowing escapes. And it's all leading up to the grand finale in Part 5!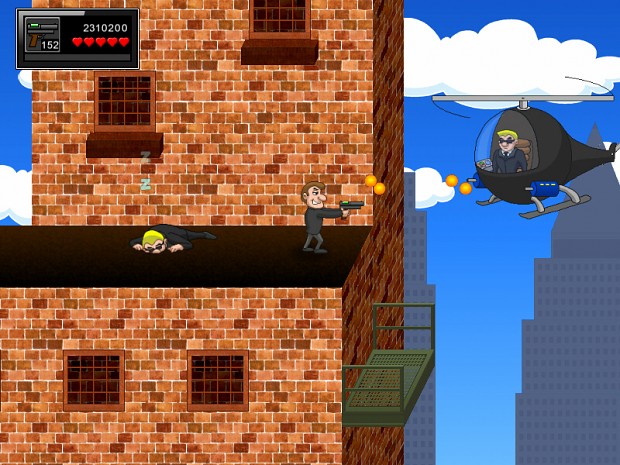 Part 4 is the only part of the game that takes place outdoors in broad daylight. All of the other parts of the story take place during the night, as you might expect for a secret agent that needs to sneak in and out of places. But because this part of the story doesn't require much stealth, it was a good opportunity to mix things up. The daytime environments have the game lighting set at full intensity, so you can see all of the action. And by adding a bright blue sky and some fluffy cartoon clouds in the background, it gives this late part of the game a fresh new look.
I made the most of the daytime setting by providing Dirk with a variety of interesting locations to explore, including city streets, rooftops, a city park, and a construction site. The construction site was particularly fun to build, because it gave me an opportunity to use a lot of different features, like falling hammers, spinning saw blades, conveyor belts, flamethrowers, etc. It's quite an obstacle course!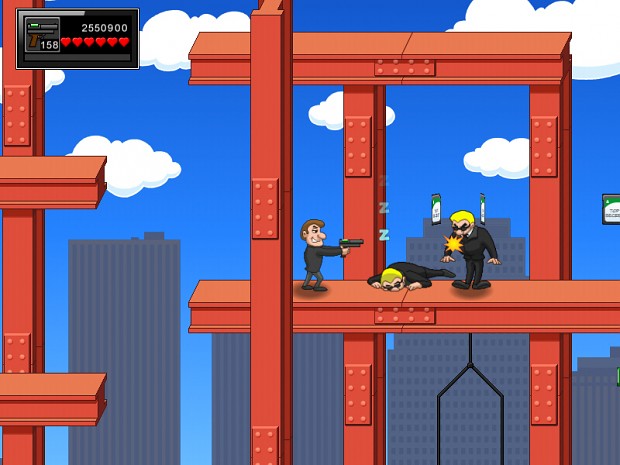 For the Part 4 levels, I tried to set up some interesting battles between Dirk and the various E.V.I.L agents in the game. Some levels have the enemy agents placed in tricky spots to make them harder to beat. Other levels have multiple agents ganging up on you at the same time, so you have more than one enemy to worry about. But players can use the various weapons and gadgets in their inventory, as well as the level environments, to employ some battle tactics and escape.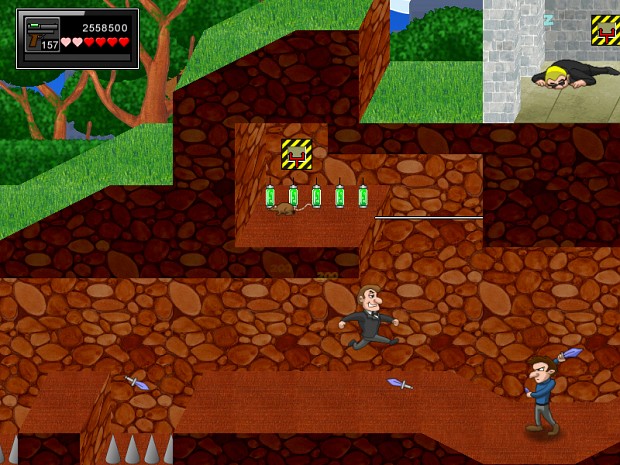 Version 0.8 also includes several bug fixes, including changes to hopefully fix the white background problem that some players have reported in Chapter 1-7. For the Linux version, I also fixed some bad file permissions that were set on some files by the installer.
You can download a free demo of v0.8 from here. Enjoy!