For those most classic roguelike players, game developers or just interested people, we've uploaded a demo of the room generation algorithm, so you can have a close idea about how it works ingame.
Death Legacy uses two generation algorithms:

Dungeon designer: This algorithm decides how many rooms will be created, and decides the way they are connected. It sets rooms parameters (difficulty, number of doors,...) and the room type (initial room, ending room, resting room).
Room generator: This algorithm receives the room parameters and build a random room which satisfy those parameters. It's the algorithm we are showing in this demo.
You can download the demo here:

The usage instruction are explained in a readme.txt inside the zip, but's pretty easy. You will see a screen like this one: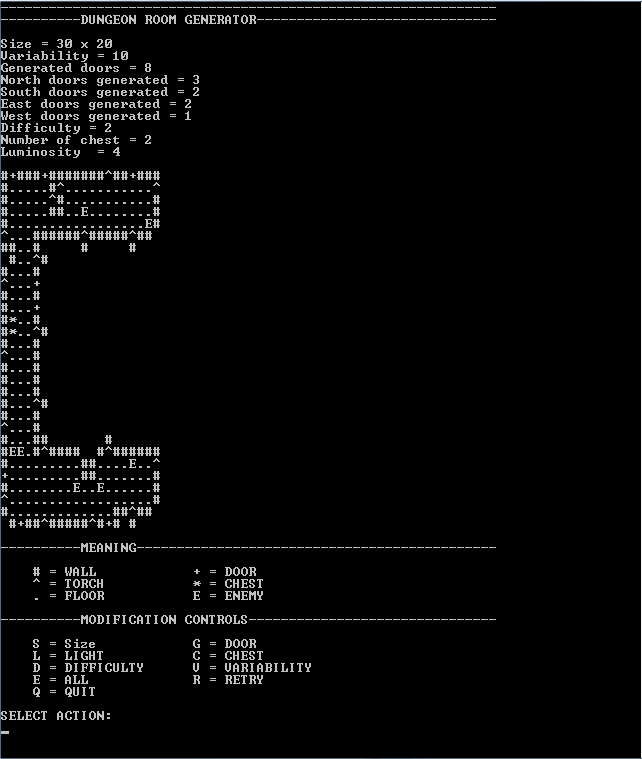 In this screen you will see the room current parameters and an ASCII representation of the current random generated room. Below the room, you have an explaination of what each ASCII character means. Finally, you will have a list of parameters you can change. To change a parameter, type an option (for example, type S to change the room size) and press Enter. Depending on what parameter you decide to change, the program may ask you for additional information. When you have set your custom parameters, you can press R to keep generating more rooms using the same parameters. Press Q to exit.
Don't hesitate to contact us if you have any doubt, or if you have any suggestion or an opinion to share.