Alright, DASHers! We are ending the 4th week of Early Access dev, and everything seems to be working out smoothly. Jake (art, design, audio and programming) and Philip (web, programming) are currently living the indie dev lifestyle, working from his appartment. Great news is that we have gotten ourself a very lucrative spot in the heart of Copenhagen with fellow dev teams Moth Games and TripleTopping Games! How about that! In this article you will hear a bit about what we have worked on this week.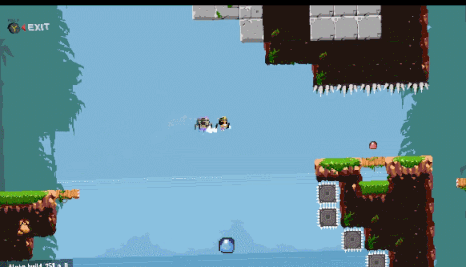 World Record Replays 100% Functional:
Since the launch of the alpha build on Steam, we have kept the coordinates, sprites and other variables on the server so that, when time was ripe, we could display the WR replay in the game as you were playing. This was finally implemented properly last week. This week we tested and tweaked it to be really awesome, smooth and fluent.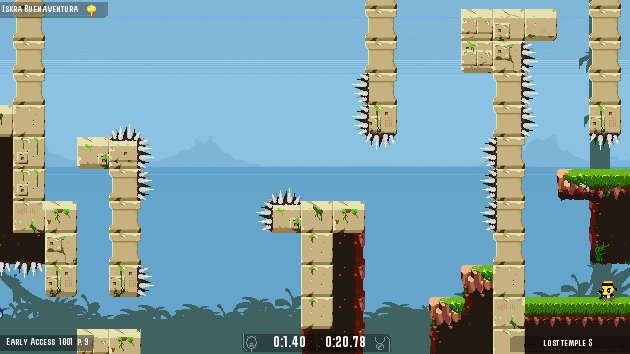 (Toggle World Record Ghost ON/OFF in the pause menu during game mode)
Another nice detail is that Jake set up the game cam to follow either you - the player Hero - or the WR replay ghost: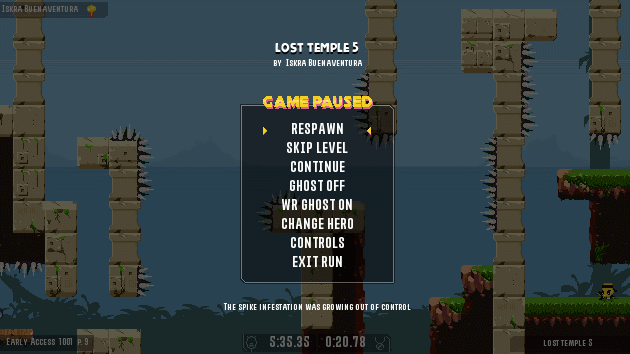 (Holding down R2 on a PS controller to make cam follow WR replay ghost instead of the Hero as usual)
Flying Enemy:
For long Jake has wanted to do a flying enemy - to add more style and flavor to the enemy set. And now it is happening. After the community on our Discord agreed that it was time for a new enemy, Jake decided that this fellow here...
(Made in Aseprite by Jakob Overgaard aka Jake)
... is the one. A few words went on in the Discord regarding the name. I think it ended on 'Slapbat'! Behold! The SLAPBAT!!
Take Screenshot Before Saving Level:
This was something which was really needed due to some awful thumbnails being portrayed on the DASH WORLD website despite the level being beautiful! To try and help players take the best custom screen shot for thumbnail, Jake programmed it so that player can move the camera to the right place, then name the level, and finally push Save and it will save the thumbnail and level correctly. Here's an example: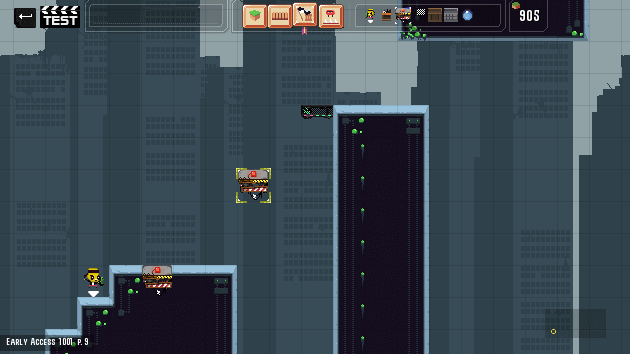 That's all for this week!
- The DASH Team!