presents you...

Hey loyal fans and followers,
Firstly, WOW! If you missed the exclusive screenshots on our facebook page, then here they are again for you. These were taken during our very first "closed alpha testing" session, which took place on Sunday 1st June.
We had an awesome turn out of 19 gamers (completely filling the server), everybody jumped on teamspeak, the air was electric as the players were downloading Critical Point: Incursion over steam. They were all eager to get in game and put their skills to the test.
We had an 8vs8 multiplayer game and it was A LOT OF FUN. We had thrilling knife fights, excellent nade skills on display, awesome sniping, intense close quarter combat with the shotguns inside the warehouse and great suppressive fire with the rifles. One of the more memorable highlights, was a player pulling out the HK121 (big ass m*ther f*cker) and mowing down the other team whilst laughing like a maniac over teamspeak!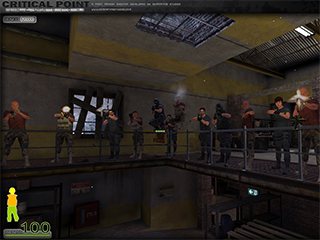 This was our first ever alpha test session with external gamers from outside of the team. We had a few issues even before the test kicked off, which led to several people working 10 hours prior to ensure the test would go ahead as planned. This paid off, as we had only a few issues with no major game breaking ones.
The alpha team found a few additional problems, with most of them already being resolved before writing this - with the rest still WIP.
During the alpha test, you could feel the tense moments on teamspeak, as people were trying to assert their authority in the match. There were gasps during the nail biting 1vs1 playoffs, with spectators starry eyed and glued to the screen, hoping their teammate would win the round. This was combined with some epic bravery, as individuals fought single handily against 4 or 5 opponents showing outstanding levels of skill. This led to ROARS of excitement from the winning team.
It felt like a championship final at times.
The overall feeling from the CP:I Dev team, in regards to the alpha test session, was extremely positive and motivating. It helped us to see that the game is definitely going in the right direction. The alpha team are thrilled with the progress and enjoyed their first experience of CP:I.
Keep sharing, keep liking and continue to see this game evolve. It will be worth your time!
All the best
Your Critical Point Team