Muah! It's me, the super scary Killerchibi. Before you run away screaming in terror, take a breather and listen... I promise, I won't bite.
I wanted to tell you that I've been working on some new character (and monster) art lately for the Shadows of Vaniria campaign. This time, I will talk a little bit about character design and my working habits in general. You'll also get a sneak peek about some of the latest sketches I've drawn. I can't go into too much detail, since I don't want to give you any spoilers concerning the story!
A long time ago (and no, it wasn't in a distant galaxy), I didn't have a chance to take part in game design almost at all, and I just drew what I was asked. I'm really happy to say that nowadays I'm slowly infiltrating in the field of design (and I'm not just talking about art stuff here, but actual gameplay and story design).
Character Design
In the beginning of the character design process, I use a lot of time talking with Snowduck. He's been planning Corona's plot a lot longer than I have so he knows better what kind of characters we still need for the game. After we have a vague image of the needed characters, we start thinking more closely about their background stories and personalities. Sometimes it's really easy, and the character just comes alive without any major effort, and some other times... well let's just say it takes a lot of Moomin cookies or chocolate chip cookies before we get any reasonable results. I've also noticed that inventing names for characters can be really time consuming, because we want them to sound just right and fitting. To tell you the truth, I think that it took me a whole year to convince Snowduck about one of the character's name... hah... hah...
After all the overall design, we seldom know exactly what the characters are supposed to look like. Snowduck has a habit of stealing the chance to create the main character, but that's okay, because there are a lot of other interesting characters to design and draw. First thing I like to do is write down some important points that need to be considered in the character's look. Let's use two of our characters as an example, Laurence and Uni. Here's what I wrote down when designing Laurence:
- A little over twenty years old
- Cool, not slimy
- He's at the peak of his powers
- Theme colors: red and orange
- Hair color: red, with some orange highlights
- Likes expensive (historical) items
- Smart, but doesn't have to wear glasses
- He has serious or mocking smile
- He looks confident
And as you can see, in the case of Uni, I didn't have such a clear image of the character in my head:
- He's a cat
- He has bat wings
- Cute
Now starts the stage when I begin looking for lots and lots of reference. Usually, Google is my friend while doing so, but lately I have found some good anime themed sites that offer me an easy access to a lot of categorized pictures. Of course, we also have few really nice art books that come in handy every now and then.
I'm a bit of a funny artist in the sense that I like to do all the design stuff using pencil and paper. It's not always easy to use this technique, and I have to be careful not to draw the lines too dark in the beginning, because there isn't an undo button anywhere around. If you ask me why I use pencil and paper, here's your answer: I can perceive character anatomy better and design details more specifically if needed.
Sketches
Here, you can see my sketch of Laurence. I only drew one version of him because he turned out quite nicely: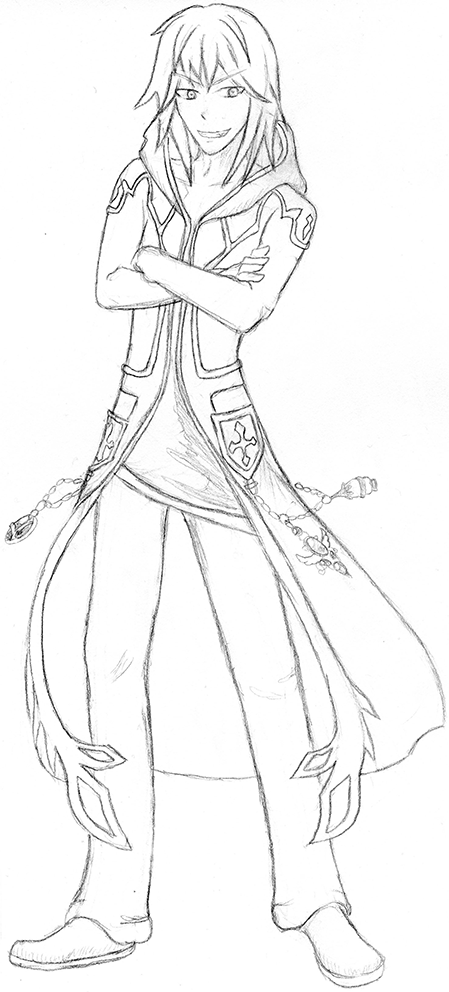 And here, a thousand and one versions of Uni, and I'm still working on the design: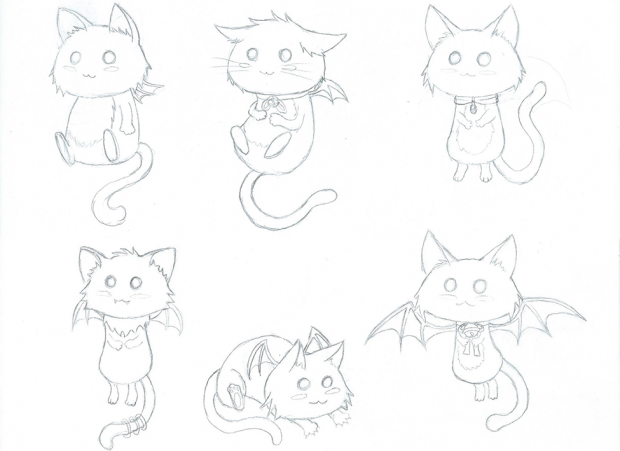 After I'm happy enough with my drawings, I just scan them on my computer and draw over them using Photoshop. I admit that my pencil drawings aren't always perfect, so I might do some small adjustments on them at that point.
The final versions of these characters aren't done yet, so you have to be patient before you can actually see them in color. And now… After aaaall this hard work I put into this article, I'm going to go and eat something yummy. See you around!